At a revised cost of £2.4bn the planned Stonehenge tunnel risks costing more to build than the economic benefits it is expected to provide, the National Audit Office (NAO) has said.
In a report that 'makes early observations on the progress and risks' of constructing a tunnel through the World Heritage Site, the NAO says that at £1.15 of quantified benefit for every £1 spent, the scheme 'has a significantly lower benefit–cost ratio than is usual in road schemes'.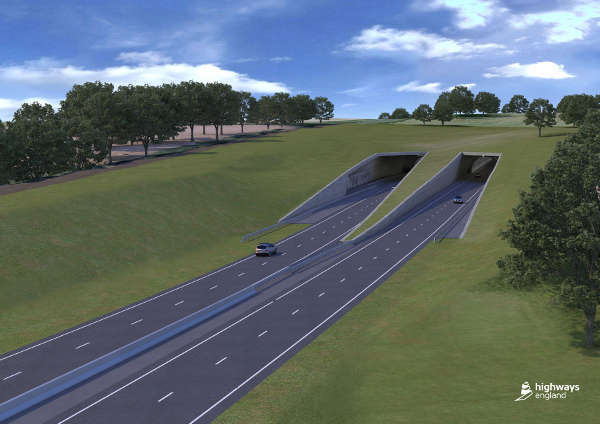 The Department for Transport (DfT) considers this to be low value for money, the report notes. It adds that Highways England has calculated a monetary value for cultural heritage, to reflect the project's wider objectives, which make up 73% of total monetised benefits.
This is despite many in the heritage community having doubts about the project.
It adds: 'Given our experience of cost increases on projects of this kind, this ratio could move to an even lower or negative value.'
The report also discloses that the expected range of costs is £1.5bn to £2.4bn, 'with the most likely cost expected at £1.9bn'. This means that the project is likely to cost significantly more than the £1.6bn figure that Highways England has estimated.
The NAO says that there is a 'good strategic reason for' the project but it notes that the high cost of building a tunnel, compared with widening or moving the road, means that 'under the standard method for appraising transport projects, the project would only deliver 31p of benefit for every £1 spent'.
It states: 'There are risks for Highways England and the Department to manage to ensure the project has a realistic chance of being value for money.
'Highways England will also need to make sure that it has the capability and capacity to deliver this project throughout the project's life and will need to continue to mitigate geological and archaeological risks.'
A DfT spokesman said: 'Upgrading the A303 at Stonehenge will boost the region's economy and improve its connections with the rest of the country.
'Stonehenge is a site of significant historical value – we have worked closely with heritage groups, including English Heritage and Historic England, to ensure it is protected both during the upgrade of the A303 and in the long-term.'
Darren Shirley, chief executive of Campaign for Better Transport, said: 'This report highlights the huge cost of this road, which Highways England itself admits will have very little if any economic benefits, and will cause irreparable damage to the World Heritage Site.
'The Government must drop this road scheme before any more public money is wasted on it and replace it with more sustainable transport alternatives.'