The return of bad weather this Easter weekend will add to congestion on the roads at a time when 19 million separate leisure journeys will be made by car, the RAC has warned.
The motoring organisation said its study into drivers' bank holiday plans indicates that the highest number plan to hit the roads for leisure trips on Good Friday, although roads will be busiest on Thursday as cars carrying families and friends vie for space with commuter traffic.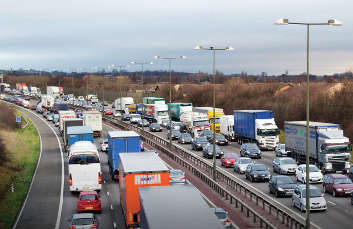 Unfortunately for drivers, the Easter weekend will also coincide with Met Office forecasts of snow showers over some areas of high ground, as well as a combination of rain and strong winds almost everywhere across the UK.
RAC traffic spokesman Rod Dennis said: 'While Easter is a little earlier this year than last, our research suggests drivers are just as keen as ever to get away and make the most of the long weekend. In fact, between Thursday and bank holiday Monday our data indicates around a million more confirmed leisure journeys by car than in 2017.
'But if drivers are hoping for the longer days to herald better weather, they are likely to be disappointed. The "Beast from the East" might have departed but much more unsettled conditions look set to make a very unwelcome return – with the risk of snow for some of us, and strong winds and rain for a lot of the country.'
He added: 'The planned upgrades to some parts of the national rail network will also likely see an increase in road traffic through the weekend, with buses carrying rail passengers in some parts of the north west, south west and east of England.'
The better news for drivers is that many major routes will be free from planned roadworks, as Highways England has completed or paused work in time for Easter.
Customer service director Mel Clarke said: 'We're doing everything we can to make journeys as smooth as possible this Easter and that's why we're keeping 99% of the road network we manage free from roadworks.'
The RAC's likely Easter traffic hotspots:
M25 between Gatwick Airport and M1
M3 south west of London
M4 west of London and between Cardiff and Swansea
A23/M23 to Brighton
A47 Swaffham to Great Yarmouth
M4/M5 around Bristol
M5 from Bristol to Taunton
A303 Stonehenge
A30 and A38 Exeter to Cornwall
M55 between Preston and Blackpool
A14 between the Midlands and the coast
A66 between M6 and the coast
M53 between Liverpool and Chester
A55 North Wales Expressway, Chester to Bangor