It has been a year since the collapse of Carillion and the aftershocks are still being felt across the infrastructure sector.
Unions have reiterated calls for major reforms in almost all aspects of business, and the pressure on companies' financial positions is taking a toll.
Capital crunch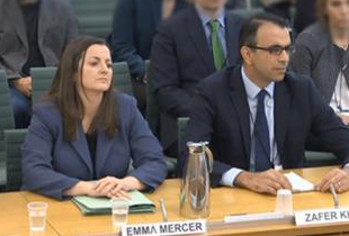 It became apparent in the last quarter of the 2018 that the sector is facing a capital crunch, with banks restricting borrowing. This in turn prompted firms to cut the debt on their books, with limited effect.
Figures released by the Bank of England in October revealed that lending from banks to infrastructure sectors including house building, commercial construction and civil engineering were in the longest period of decline since 2011.
In each of the six months to August, outstanding loans to construction and civil engineering businesses contracted, with the total stock of loans falling by £1.5bn over the period.
The feeling in the sector is that the squeeze began soon after Carillion's collapse.
The problem facing the sector has been know for some time - contracts that are underpriced or operating under margins that are squeezed so tight that there is no room for error, high debt levels as a result of the resource intensive nature of the industry and project overruns that can be out of anyone's hands. Roads projects, among other construction contracts, can overrun because of the weather.
Add to this a lack of engineering capacity in the UK, stagnant productivity levels and, due to Brexit, the uncertainty over the existing workforce - many of whom come from elsewhere in Europe - and it is no wonder firms have wished to consolidate their position.
Kier attempted a rights issue late last year, to raise £250m to help pay off its £650m debt.
There was a slow take-up with only 38% of shareholders acting on the chance of cut-price equity - around 64m shares were offered, at a 34% discount to existing shareholders.
On top of this Interserve appeared to be in serious trouble as a result of carrying large debt and announced deleveraging plans with more details due to come early this year. The firm said it would involve 'a conversion of a substantial proportion of the Group's external borrowings into new equity' - that is swapping debts for shares.
A potential rescue plan was floated by Interserve in late December with an update due shortly.
On the positive side, the Government has a healthy pipeline of construction works, including boom periods for rail and road. On top of this, housing has become a major political issue with every party falling over itself to promise more new-builds and home ownership.
It appears that fortunes may well favour those who manage to keep a strong ratio of work to debt, and do not fall into the trap of chasing more work to cover existing underpricing or ultra low margins. Alternatively, risk may need to be shared on some work, which could actually lead to positive collaboration and a better outcome in the long run.
Investigation
To date no one has been charged with criminal activity following Carillion's collapse. The Insolvency Service began its investigation into whether any laws had been broken in August 2018 and has yet to report back.
Only after Carillion collapsed, the Financial Reporting Council announced an inquiry into the companiy's audits in 2014, 2015 and 2016. In March 2018 the FRC announced a further investigation into the conduct of Richard Adam and his successor Zafar Khan (pictured) into the preparation of Carillion's financial statement from 2014 until the first six months of 2017.
To date no conclusion has been made or action taken so far.
Government action
The Government has been working with outsourcers to understand how to more effectively prevent and manage a situation like Carillion.
Even before the collapse, the Government started drawing up more joint and several contracts, to ensure project partners could take over in the event of a company collapse. These appear to have worked very well in the roads industry, with firms taking on Carillion's work.
Cabinet Officer minister David Lidington has announced that the Social Value Act would be amended to require all central government contracts to 'explicitly evaluate social value where appropriate'.
The Government has also started trials of living wills for major outsourcing contracts, which set out how services could be managed in the event of a corporate failure.
The Cabinet Office is also in discussions with departments over selecting relevant key performance indicators for the top 500 contracts, to help better procure and manage key contracts.
Unite's key recommendations
A full public inquiry into Carillion's collapse
End lowest bidder wins procurement culture
Radical reform and strengthening of the directors duties contained in Section 172 of the Companies Act 2006, requiring directors to concentrate on the long-term welfare of the company, rather than short-term profits
New rules that result in making it impossible for companies to prioritise executive pay, dividends and bonuses over making pension deficit recovery payments
The crown representative system is not fit for purpose. There needs to be a review into an effective system of liaising between the government and its suppliers.
The big four accountants need to be broken up with auditing being spun off into separate specific companies
The creation of additional rules to ensure that auditors have a duty of care to employees
The regulatory system for the entire financial sector needs radical reform. The number of regulators needs to be reduced and their roles clarified. Equally they must be given real legal teeth and enforcement powers in order to ensure they can intervene before companies collapse
Companies bidding for government contracts most demonstrate they are financially robust, or be barred from bidding for new work
TUPE regulations and whether they should apply in the event of a company's compulsory liquidation needs to be reviewed.