Labour's shadow road safety minister is to write to the Government to ask what has happened to the unspent £75m from its £175m Safer Roads Fund.
As Transport Network has reported, improvements paid for by £100m from the Fund are predicted to prevent 1,450 deaths and serious injuries across 48 high-risk stretches of the local authority road network.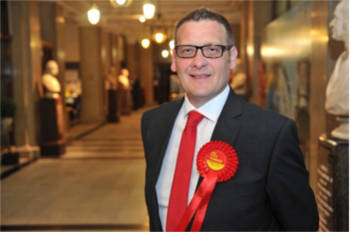 In June road safety minister Jesse Norman told MPs that local authority bids to the fund had been fully funded and that the remaining £75m was 'not required'.
In a parliamentary debate last week, Labour's shadow road safety minister, Karl Turner, asked Mr Norman to clarify what had happened to the remaining cash.
Mr Norman did not directly answer the question. He said: 'That £100m was bid for by 50 local authorities, and it was allocated to them. I am sure we will return to that subject over time, but it is worth saying that as the report shows, that money is projected to have a very positive effect on reducing casualties and deaths, and — purely in economic terms — a high cost-benefit ratio, as one might expect.'
Mr Turner told Transport Network: 'It was disappointing that the minister did not address my questions regarding the Safer Roads Fund. When it was first announced back in 2017, the Government stated that it totalled £175m. Now ministers are saying that £75m of the fund has not been required.'
'This is despite the fact that dangerous A roads across England were denied funding to improve safety for not being dangerous enough. It beggars belief as we are crying out for investment in road safety and I will be writing to the minister in order to seek further clarification.'
Transport Network has also asked the Department for Transport what will happen to the money. Again, it did not answer the question.
A spokesperson said: 'All of the 50 road schemes are receiving funding and are expected to be completed by 2022.'
While Mr Norman's promise to 'return to that subject over time' could be seen as a hint that the remaining £75m will be allocated to other road safety schemes in future, another potential use for the cash could be the 'further plans' to tackle the 'blight' of potholes that transport secretary Chris Grayling promised in his Conservative Party conference speech.
The Safer Roads Fund comprises a mixture of a reactive and proactive approaches to road safety improvements, where roads with poor safety records are made safer using the International Road Assessment Programme (iRAP) methodology.
The 48 schemes currently being funded by the £100m represent 49 of the 50 highest risk stretches of road identified in 2016 by the Road Safety Foundation. One local authority combined two stretches of road into a single scheme while another did not bid as it was already carrying out works on a stretch of road.
As Transport Network revealed last year, Highways England has used the (iRAP) methodology to assess the safety of the strategic road network. It has not yet released the results or stated how it will use the data but has pledged to publish 'findings' from the exercise by the end of this year.