Infrastructure services company FM Conway has launched one of the construction industry's first Large Goods Vehicle (LGV) driver apprenticeship programmes.
The Road Haulage Association estimates that the shortfall of LGV drivers in the UK is currently at 45,000.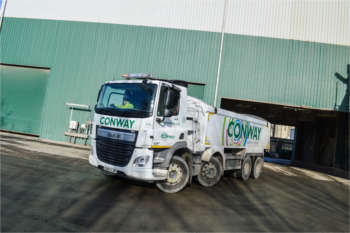 The 13-month apprenticeship – which the business is funding through the Government's apprenticeship levy – is designed to support new entrants as well as provide existing employees the opportunity to upskill or re-train.
Delivered by FM Conway in partnership with Scania and South Essex College, the programme will see around 36 apprentices a year learn the functional skills required to drive an LGV, alongside a comprehensive overview of health and safety protocols, sustainable and economical driving and vehicle specifications.
Liz Garvey, HR director at FM Conway, commented: 'The skills shortage remains a well-documented, serious challenge for construction. It affects all levels of our business, both on and off site. We need to be flexible in how we tackle the issue, providing a variety of opportunities for people of all backgrounds and ages and using funding mechanisms astutely to plug the gaps.
'The shortage of LGV drivers has the potential to seriously hamper the wider industry's ability to get materials and equipment to site. With just 2% of drivers under the age of 25, it's clear that the sector's current recruitment process isn't working. With this new apprenticeship standard, we want to attract people who might never have considered a career in construction before or been aware of the diversity of roles it can offer.
'The beauty of this standard is that it is both a gateway for new talent and a way to help more experienced employees retrain and transition into positions that might better accommodate their needs.'
FM Conway's liveried fleet stands at more than 900 vehicles.