Highways Awards 2021 once again recognised and rewarded the amazing achievements of the sector including recent entrants and one of its longest-serving stalwarts.
The event, featuring a gala dinner and hosted by comedian Marcus Brigstocke, marked a welcome return to the in-person format after the 2020 awards had to be held as a virtual event.
Transport Network and Highways magazine editor Dominic Browne said: 'It was brilliant to bring the highways community back together again and give much-deserved recognition to all their hard work.
'Last year the sector showed leadership in the face of adversity, this year we have shown inspiration in the face of opportunity, with particular progress being made in digitalisation and decarbonisation.'
The massive contribution to the industry of Matthew Lugg OBE was honoured with the Lifetime Achievement Award, sponsored by Kier.
The judges said: 'The award this year is dedicated to a constant innovator and brilliant ambassador for the sector. A person who has led our professional bodies and liaised with the heart of government to secure greater investment, technical excellence and best practice asset management across local government.
'Whether it is formulating long-term strategic plans, carrying out reforms after our most challenging periods, or creating new alliances, this person is one of the respected pillars of the Highways Community.'
Picture: Left to right - Dominic Browne, Matthew Lugg OBE, and Joe Incutti, group managing director at Kier Highways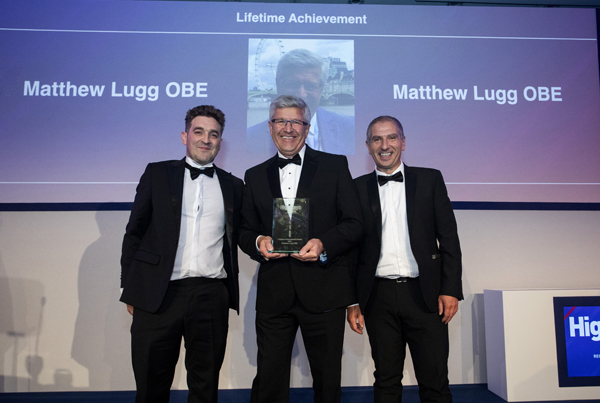 Ella Northey of Balfour Beatty won the Apprentice of the Year award, sponsored by the Institute of Highway Engineers.
The judges said: 'Our winner has been a key and trusted engineer on site. Her commitment to personal development, STEM and shadowing as well as both her academic and professional development is also commendable.'
The night also featured the inaugural Steve Berry Highways Authority Innovation Award, in honour of another major figure in the sector, who sadly died earlier this year.
The award, sponsored by Mott MacDonald, was won by Connect Plus Services, Connect Plus, Atkins and Accent for The Customer Experience.
The judges celebrated the winning team as not only furthering the sector's knowledge in a cutting edge area of highways research, but also developing new methodologies to do so, providing innovation in both theory and practice.
Other awards
Award for Best Use of New Technology, sponsored by Traffex/Parkex
Winner: Balfour Beatty Vinci Joint Venture working on behalf of National Highways for M4 Junction 3-12 motorway upgrade
Judges' comments: 'This project demonstrated huge benefits. From planning, through to public consultation, and on to demolition and construction, the judges were particularly impressed with the way the team virtually built the project so customers could see the difference after each closure.'
Highways Industry Product of the Year Award, sponsored by Transport Network
Winner: Highway Care, Kier Highways, National Highways for FALCON Automated Cone Laying Machine
Judges' comments: 'We were impressed with the clear evidence that this product removes a major area of risk. From concept, through to manufacture, to testing and eventual delivery, this product represents a ground breaking new approach.'
Highways Partnerships Award, sponsored by WJ
Winner: SMP Alliance
Judges' comments: 'A partnership that fully mobilised during the pandemic and adopted new ways of working, the judges commended this entry for producing clearly measurable outcomes, with collaborative sharing of risk and reward over a long-term pipeline of work.'
Highways Maintenance Efficiency Award, sponsored by Highway Care
Winner: Kier Highways Ltd Area 4 - blockades
Judges' comments: 'The winner provided immediate and tangible benefits for the client, the contractor and most importantly the customer, detailing how the system has evolved to provide even greater efficiencies and superior front-facing services over time.'
Major Project Award, sponsored by Highways magazine
Winner: National Highways, Tilbury Douglas, Arup, and Faithful+Gould for the A63 Murdoch's Connection.
Judges' comments: 'The winner demonstrated excellent planning, collaboration and innovation. The judges commended its focus on stakeholder engagement notably with local accessibility forum members, using their feedback to directly influence the design.'
Mental Health and Well-being Award, sponsored by Mind
Winner: Atkins for Changing the way we think and act about mental health in the workplace
Judges' comments: 'A very comprehensive wellbeing programme, and we were particularly impressed by the support available for line managers.'
Road Enhancements and Marking Project of the Year Award, sponsored by Highways Jobs
Winner: WJ Group for Operation Brock
The judges commended the impressive performance of the winner on this high profile scheme. The team demonstrating an innovative culture, commitment to carbon reduction and excellent service delivery under extremely tight deadlines.
Road Safety Scheme of the Year Award, sponsored by SRL Traffic Systems
Winner: Balfour Beatty, Atkins and National Highways
The judges said this winner was a great example of a team using a blend of measures, both physical and educational, to proactively reduce the risk to road workers.
Site Safety Initiative Award, sponsored by Shell Bitumen
Winner: Connect Plus working in Partnership with Steve Perkins Associates for Healthier Highways on the M25
Judges' comments: 'This year's winner took a novel approach to supporting sector well-being and safety, delivering strong evidence of culture change and a preventative approach based on excellent engagement with working groups.'
Team of the Year Award, sponsored by Clearview Intelligence
Winner: National Highways for National Resilience & Security Team: COVID-19 pandemic response team
Judges' comments: 'This team's whole-organisation approach to the pandemic, brought together a range of expertise and capabilities into a single co-ordinated effort to keep people safe and healthy, and maintain critical services that kept the country running no matter what.'
Winter Maintenance Award, sponsored by the National Winter Service Research Group
Winner: Ayrshire Roads for Partnership Working (winter resilience volunteer groups)
The judges felt the winner's approach to including the community in making their area safe was impressive. The guidance, information and tools provided ensured anyone that signed up to the scheme knew exactly what to do and when, confident that they were following the latest national winter guidelines. Since launching the project it has gone from strength to strength.
Environmental Sustainability in the Highways Sector Award, sponsored by Total Energies
Winner: Aggregate industries UK Ltd for the UK's First Carbon Neutral Highway Scheme - A590 M6 J6 Brettargh Holt Improvement
The judges felt that this scheme set a new benchmark for sustainability in a core area of the highways industry, providing learning and best practice that could help stimulate innovation across the entire sector.
Special Merit Award, sponsored by Cold Comfort
Winner: Aggregate industries UK Ltd for the UK's First Carbon Neutral Highway Scheme - A590 M6 J6 Brettargh Holt Improvement
Judges' comments: 'The winner stood out because of its rigour and prescience, setting a new benchmark in the increasingly vital challenge of decarbonisation. From concept to planning and delivery, this project achieved excellence in sustainability and provided best practice that could help stimulate innovation across the entire sector.'