Highways England has linked with charity Sustrans to deliver cycling schemes worth £3m as it works to meet its target for cycling improvements in the Road Investment Strategy (RIS).
It said the cash will to help provide safer crossings and connect cycle schemes on England's busiest roads with the charity's 16,505 mile National Cycle Network, which is used by 4.4 million people every year for commuting and leisure.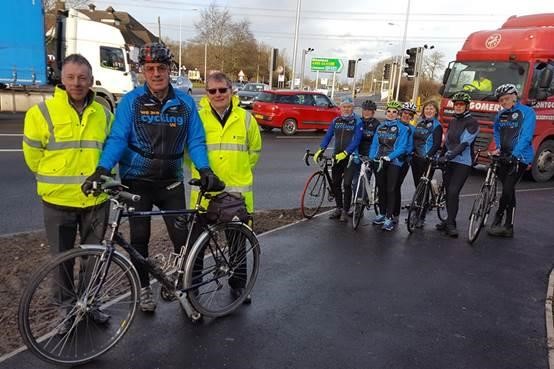 A £1.1m scheme has created a new 320 metre cycleway through the Two Mills junction at Ellesmere Port
Highways England said the 'pilot project' will help it towards its target under the current RIS of 200 cycling schemes by 2021, which includes 150 schemes by 2020.
The government-owned company has a £100m designated fund for cycling to provide improvements and new facilities that make it safer and easier to negotiate its roads. It said that so far 80 new schemes have been built and 286 crossings have been improved.
Sustrans has identified a long list of opportunities and will work with Highways England to create a shortlist of schemes that can be taken forward quickly.
Highways England's head of road safety, Richard Leonard, said: 'We want to make sure that our roads create opportunities for cyclists, not barriers to journeys. Our vision is to create better and improved cycling facilities that are safe and separate from traffic, which encourage cycling as a sustainable form of transport and make every day journeys as easy as possible.'
Anita Konrad, Sustrans' national director, England said: 'We are delighted to be partnering with Highways England and welcome this investment that will make it easier for more people to cycle to work, the shops and for leisure.
'Cycling and walking for local journeys is part of the solution to many of the challenges we face today, including road congestion, air pollution and high levels of inactivity. The schemes demonstrate how – with some practical design solutions and minimal interventions – we can address these challenges, and that retrofitting cycling provision can be done easily.'