Highways England has completed the installation of 175 airport-runway-style LED road studs at one of England's busiest motorway junctions.
The innovative studs are to help mark out lanes at Switch Island in Merseyside, which is used by over 90,000 vehicles every day.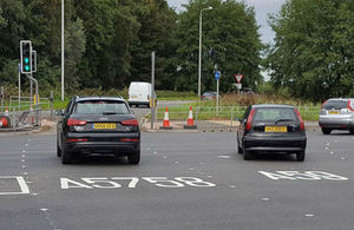 The government-owned company said they are visible up to 900 metres away – far greater than traditional reflective road studs – and have been proven to help stop drivers drifting between lanes, reducing the risk of collisions.
The studs have are part of a £3m project to improve journeys and safety at the junction, where the M57, M58 and three A roads all join together.
Cables under the road surface connect the studs to traffic lights through a nearby controller unit, allowing them to be automatically switched on when traffic lights change to green.
Project manager Phil Tyrrell said: 'We're pleased we've now reached the stage where our new smart road lights can be switched on.
'We've found that some drivers can start drifting between lanes when they travel through the junction and the new LED road studs are a great way of guiding drivers and helping them stay in the correct lane, avoiding the risk of a collision.
'We're keen to use new ideas to improve safety at Highways England and the new smart studs will benefit the tens of thousands of drivers who travel through Switch Island every day.'
The studs were designed by Clearview Intelligence, whose director of solutions, Andy Salotti, said they will provide drivers with clear and enhanced lane guidance through the complex junction.
He said: 'This is the first time a project involving dynamic delineation has ever been introduced at a major motorway junction on the strategic road network in England.'
Highways England said that while it has already installed the LED studs at the A3 Hindhead Tunnel, the Switch Island scheme is the first time they have been linked to traffic lights at a motorway junction.
Construction work on the Switch Island scheme is due to be completed this winter. It is designed to improve the flow of traffic and enhance safety, following 49 collisions at the junction in two years – an average of one every fortnight.
Other improvements include changes to the road layout and lane markings, new barriers between carriageways and coloured high friction surfaces. Four new overhead gantries will also display signs over each lane so drivers know which lane they should be in.
A new 400 metre shared cycle path has been created through the junction.