England's approach to local road safety has major structural weaknesses and is hamstrung by a chronic lack of funding meaning councils may soon be unable to fulfil their legal duties, a new report has found.
These expert insights from the Road Safety Foundation, in partnership with the Rees Jeffreys Road Fund, were developed through a survey with 30 local authorities.
The research supports the case for a new strategy and funding settlement after years of stalled progress in road safety.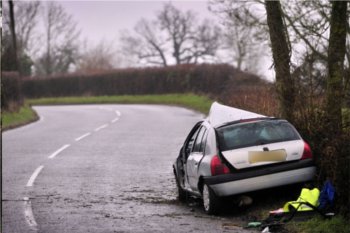 Road deaths in 2017 in Great Britain numbered 1,793 which is the highest number of fatalities since 2011. The economic cost of road crashes is equivalent to just under 2% of GDP.
The Road Safety Foundation makes a series of recommendations and also highlights that Scotland bucks the national trend with a much more effective and targeted strategy.
It calls for a new Highway Standards and Safety Board – in line with that already in place for rail – to be formed to provide expertise and guidance on behalf of the Department for Transport (DfT) to local authorities, sub-national transport bodies and Highways England.
A new dedicated fund to support a permanent version of the widely praised £100m Safer Roads Fund should also be established, it states.
Kate Fuller, acting executive director of the Road Safety Foundation says: 'Those responsible for highways have a personal liability in law to avoid very small risks to road workers which is substantially greater than their legal obligations to the public. In comparison, vehicle manufacturers face catastrophic financial consequences for vehicle safety defects, and airport operators would not consider for a moment that a small increase in crashes was a permissible trade-off for measures that would ease airport congestion.
'What comes across loud and clear from the survey is the huge variety of knowledge and expertise across LAs, ranging from the highly skilled to those which need all the help they can get. A Highway Standards and Safety Board, made up of those with the most to offer, could be critical to providing guidelines so badly needed to make local authority roads as safe as strategic roads.'
Report findings and recommendations
Concern was raised that cuts to funding may soon prevent LAs [local authorities] from fulfilling their statutory road safety duties while most LAs indicated that they no longer have the capacity to improve road safety, including meeting their own targets where these have been adopted locally.
Road safety governance was generally weak and most of the limited funding for road safety comes from the LA's own budget
The loss of the central government road safety grant has been the most significant change in LA road safety funding in the last decade, respondents noting that this means there has been very limited funding for delivery beyond staff revenue
Road safety activities that have been cut include education, training and publicity activities and school crossing patrols; some casualty reduction partnerships have come to an end and the number and scale of engineering interventions on many collision-affected routes have been reduced, if not stopped altogether
Scotland's safety performance has overtaken that in England over the last decade as a result of years of work including the use of formal casualty reduction targets and the establishment of multi-agency partnerships specifically tasked with achieving them.
The statutory framework that requires highway authorities to deliver safety in general terms is weak in comparison with, for example, modern health and safety or product liability legislation. LAs naturally give priority to legislation where the requirements on them are explicit.

The (permanent) Safer Roads Fund
The £100m fund portfolio of schemes was developed within nine months and had an estimated economic return 'among the highest within the entire national transport portfolio'.
It provided an opportunity for 30 local authorities to address England's 50 highest risk 'A' roads and allocated larger capital sums to spend on proactive road engineering schemes, giving officers the chance become familiar with new analysis tools, which enable business cases to be prepared on a comparable basis to other major investment.
The report states creating a permanent Safer Roads Fund would be the simplest way forward. It could either be a distinct sub-fund of the £29bn National Roads Fund being financed through Vehicle Excise Duty from 2020; or an insurance based fund, receiving a component of Insurance Premium Tax directly.
The Insurance-based Fund
'Internationally, there are other models being used for funding. In Victoria, Australia, very high levels of infrastructure safety funding by UK standards come from the Transport Accident Commission Making Road Safety Pay, whose effectiveness has been carefully evaluated in both economic and financial terms. The Commission settles all bodily injury claims from road crashes in Victoria and thus invests to reduce whole life claims costs.
'Highways and hospital trauma units, for example, receive direct investment. In the UK, investment is a cost and the gains to NHS, social care programmes, employers and the wider economy do not flow to the highway authority.'