Ministers have given two key cities more time to draw up plans to tackle air pollution from road vehicles, despite warnings of 'serious consequences' after both missed earlier deadlines.
It does not appear that Derby and Southampton city councils will receive any fines or sanctions as a result of the delays. Derby is about a year and half late producing an outline business case for tackling air pollution and Southampton (pictured) has also missed several deadlines.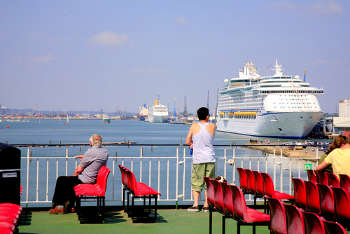 The councils were initially told to provide an outline business case in October 2017, which Deby missed. It then had the deadline pushed back to the end of February 2018
The two authorities were then told by ministerial direction to produce a full business case for the air quality plans by 15 September 2018.
When the councils said this date could not be met, Dr Thérèse Coffey parliamentary under secretary of state at environment department Defra, wrote to Derby and Southampton in September 2018 giving them a new deadline of 30 November.
In her letters, Dr Coffey warned of 'serious associated consequences' if that deadline was missed.
Both councils failed to meet the deadline. Last month Dr Coffey issued directions to Derby City Council and Southampton City Council requiring them to produce full business cases for tackling roadside nitrogen dioxide (NO2) concentrations by 26 March and 31 January respectively.
Derby issued a statement acknowledging that 'due to a number of factors, and following discussions with government colleagues, revised timescales have been agreed for the council to submit the business case element of the project'.
Verna Bayliss, Derby's acting director of planning and transportation said: 'We continue to give this work the highest priority, and have been working closely with government over the feasibility project and delivery of the business case for the Roadside NO2 Local Air Quality Plan.'
Derby has now said it will be submitting the outline business case to ministers on 25 February 2019, followed by the full business case, which will be submitted on 26 March 2019, 'in line with the agreed revised timescales'.
It added that it was 'confident' that the traffic and network management scheme being developed as the preferred option to deliver the reductions in roadside NO2 will be delivered in 2019, subject to the necessary approvals processes both internally and externally with government '.
On Wednesday (9 January) Southampton City Council published its proposed business case to deliver compliance with the EU limits by 2020 which, like Derby and Nottingham councils, it said could be achieved without the need for a charging clean air zone (CAZ). Its plan includes addressing emissions from ships in its port.
The EU Air Quality Directive, which imposes legal limits on NO2 concentrations, became binding on the UK Government in 2010.
In April 2015, campaign group ClientEarth won a Supreme Court ruling that ordered ministers to draw up a plan to bring air pollution down within those limits as soon as possible.
Five cities, including Southampton, Nottingham and Derby, were initially required to implement charging CAZs. Under revised Government plans, they were then required to set out a detailed business case on preferred measures to bring their areas within the legal limit value for NO2 in the shortest possible time.
Birmingham and Leeds city councils have proposed charging clean air zones.
Highways has approached Defra for comment.