Potholes and poor carriageway surfacing have topped a list of risks to cyclists and motorcyclists compiled by road safety experts.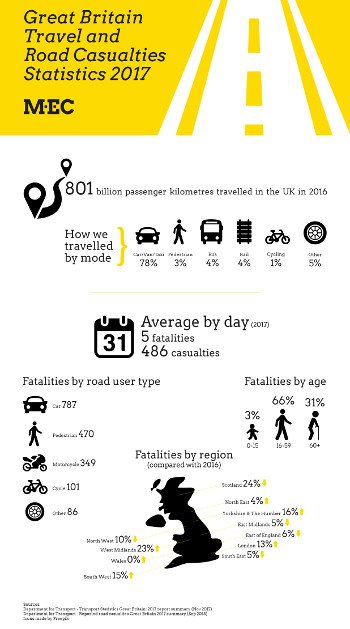 This year's national Road Safety Week, which runs from 19 to 25 November, is highlighting the safety of two-wheeled road users under the theme 'Bike Smart'.
To mark the event, the Road Safety Team at development consulting engineers, M-EC, has compiled a list of the top five issues posing risks to motorcyclists and cyclists that it encounters when conducting road safety audits across the country.
Accompanying each risk, the experts have listed their recommendations on how these risks can be minimised.
1. Poor carriageway surfacing and potholes
'There are plenty of areas of badly worn and potholed road surfaces across the UK which present safety issues for cyclists and motorcyclists and it's unfair to expect new developments and changes to the highway to have a significant impact on reversing this trend.
'However, when changes to the highway result in changes to the positioning on the road for motorcyclists or cyclists, or a significant increase in flows, there is a risk that defects could start to cause safety issues.'
Recommendation
'We'd always recommend considering all road users when designing any change to the highway but especially those users who may not always be at the forefront of the designer's mind. Think about how each area of the highway are utilised by the varying groups, the lines through junctions or along stretches of road and the impact that any changes may have on this. Then ensure that the surface is fit for all users.'
2. Lack of onward routes
'Ensuring that routes for cyclists are provided as part of highway improvements is becoming more and more commonplace. We often find that what is missed off though is the connectivity at either end of the changes, re-introducing cyclists to the carriageway in a safe place or linking in to existing facilities nearby. If there isn't a joined-up link it's unlikely that cyclists will use a facility and, worse still, if they don't link up to an onward facility a real safety issue could be introduced by the design.'
Recommendation
'Our recommendation is to always consider where and how you are reintroducing cyclists to the carriageway. Try to avoid "dumping" cyclists back on to the carriageway where other vehicles are merging or where drivers may be distracted by complex junctions. We'd also recommend highlighting the likely re-entry point to other vehicles or, where possible, establishing the cycle route alongside the carriageway before a gentle re-introduction.'
3. Temporary Traffic Management Issues
'When construction is underway it's often cyclists, and to some extent motorcyclists too, who are forgotten about. Whilst routes for pedestrians are provided there's little provision for cyclists which can cause a problem when an off-carriageway route is blocked, or for both cyclists and motorcyclists when they are required to travel along parts of the carriageway that are seldom trafficked or where slippery covers or debris could be left.'
Recommendation
'We recommend identifying potential hazards and ensuring that all users are alerted to them, as well as providing advanced signing of diverted routes and cleaning of the carriageway to ensure there is no build-up of slippery materials.'
4. Poorly located posts and barriers
'Signs must be located where they are clearly visible and where they maintain their relevance, whether they are indicating the start of a restriction, warning of a hazard ahead or providing directional information.
'However, if signs are located at places where there is a risk of them being struck by a vehicle that has lost control, the risk of serious injury to motorcyclists can be significant. Similarly, if a road restraint system (or "crash barrier") is in place, these too can in fact pose a serious threat of injury to motorcyclists in the case of loss of control accidents.'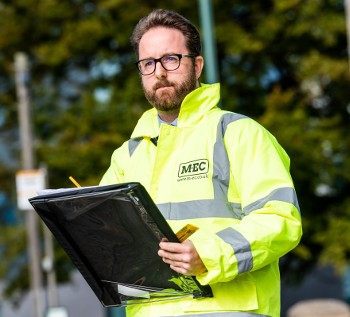 Recommendation
'Passive safety posts can go some way to helping mitigate against severe injuries but generally we would recommend that practical signs should be located away from these areas.
In addition, if you're looking at introducing a road restraint barrier or fence system, especially on corners and in rural locations where loss of control accidents are more common, try to find a barrier or fence that provides protection for motorcyclists as well as other vehicles.'
5. Lane / refuge 'squeeze'
'There is a constant competition for the available carriageway space as designers try to accommodate all road users. Substandard width cycle lanes or pinch points created by central refuges can result in cyclists and motorcyclists being "squeezed" against kerbs on either side of the carriageway.'
Recommendation
'We would recommend that if a facility is to be provided, it should be of a good standard. Sometimes no on-carriageway facility is better than a sub-standard one. Look at whether off-carriageway alternatives can be provided where there isn't enough room for on-carriageway ones and be mindful of "the squeeze" when reviewing lane widths through pinch points.'