A leading safety charity has called on ministers to set safety goals for the proposed major road network (MRN) of local authority roads and for over £500m to be spent across Great Britain to improve high risk routes.
A new report from the Road Safety Foundation (RSF) and Ageas Insurance said these were 'two clear actions' where government can take an immediate lead to reduce the number of fatal and serious crashes, as well as delivering high returns to society.
The report, How Safe Are You on Britain's Main Road Networks? finds that while the proposed MRN carries a third of the traffic of Highways England's strategic road network (SRN) and is only slightly longer, there were more fatal crashes on it in 2017 than on the SRN.
It argues that the UK Government must set disciplined safety goals for the MRN in line with those for the SRN.
The report also calls on governments across Great Britain to release new funding totalling £532m, including an immediate allocation through the successful Safer Roads Fund.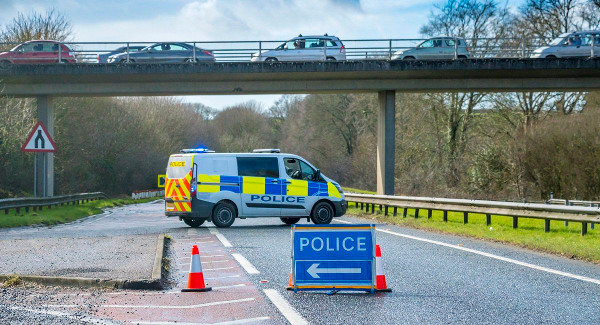 RSF acting executive director Kate Fuller said: 'Our main road networks need to be safe. So much of our travel is on these intensely used networks that any flaw in their in-built safety means tragedy sooner rather than later.
'Years of work in Scotland, coupled with widely adopted formal casualty reduction targets is delivering results, and Scotland's main road network is now safer than England's and significantly safer than that of Wales.
'For England to achieve similar results, the newly defined major road network – with more than four times as much risk as Highways England's network – needs disciplined safety goals; and Government must release new funding from the successful Safer Roads Fund to address the 75 persistently higher risk roads.'
The report argues that there is a 'clear opportunity' to tackle first Britain's persistently high risk local 'A' roads through a new tranche of funding from the Safer Roads Fund and then all of Britain's unacceptably higher risk local roads through annual funding.
It calls for £117m immediately to prevent 3,450 fatal and serious injuries over the next 20 years. This would mean £109m in England, £6m in Scotland and £1m in Wales.
To tackle all of Britain's unacceptably higher risk local roads the report calls for £83m annual funding over the next five years to prevent 6,850 fatal and serious injuries over the next 20 years. This breaks down as £62m in England, £14m in Scotland and £7m in Wales. All but one of these roads is on the local road network.
The RSF described 'a patchwork approach to tackling death and serious injury' from the country's roads authorities, with just one – Highways England – having a specific commitment relating to the measurable safety performance of its road infrastructure.
It notes that Highways England has both a casualty reduction target and a target to ensure that 90% of travel on the SRN is on roads rated as three star or higher on the EuroRAP/iRAP methodology – the system used by the Safer Roads Fund to improve the inherent safety of roads.
However, as Highways has reported, Highways England also has a target to bring the majority of one and two star roads up to this three star benchmark but has suggested that it will miss this target.
Other findings:
60% of all deaths are concentrated on the 12.5% of road length surveyed
75 persistently higher risk road sections are not yet being addressed through the Safer Roads Fund, including seven of those in the top 10 persistently higher risk rural roads
The A5004 in Derbyshire is named the most persistently higher risk road where eight crashes that resulted in death or serious injury happened in three years on just a 12km stretch of road
The most improved road is the A11 between the A14 near Newmarket and the A134 north of Thetford
The latest data is now available online for the public to check the roads in their areas via an interactive map.
Britain's top 10 persistently higher risk roads (2012-14 and 2015-17)
A5004 between the A6 and the A53* (Derbyshire CC)
A3055 between the A3054 near Freshwater and the A3054 in Ryde (Isle of Wight)
A645 between the A638 and the A639 (Wakefield Council)
A909 between the M90 and the A921 (Fife)
A57 between the A628 and Sandy Gate (76% Derbyshire/22% Sheffield/2% Tameside)
A683 between the A65 and the A6* (Lancashire)
A290 between the A299 and the A28* (Kent)
A272 between the A30 and the A3 (Hampshire)
A3054 between the A3055 near Freshwater and the A3055 in Ryde (Isle of Wight)
A361 between the A377 and the A399 (Devon)
* being addressed by the Safer Roads Fund during 2019/2020 – 2020/2021
Britain's most improved roads (2012-14 to 2015-17)
A11 between the A14 near Newmarket and the A134 north of Thetford (Highways England)
M5 between junctions 16 and 23 (Highways England)
A161 between the A18 and the M62 (57% East Riding of Yorkshire/43% North Lincolnshire)
A626 between the M60 and Dodley Lane (Stockport
A10 between the M11 and the A120 (60% Hertfordshire/40% Cambridgeshire)
A397 between the A3 and the A27 (Portsmouth)
A4174 between the A4 and Bedminster Road (Bristol)
A666 between Town's Moor and Queen's Road, Whitehall, including the junction with the M65 (Blackburn with Darwen)