The 2019 Road Safety Marking Association (RSMA) Awards have celebrated the road marking industry's work to promote health, safety and wellbeing, sustainability and innovation.
Dylan Thompson of Wilson & Scott (Highways) Ltd won the award for Employee of the Year.
The judges said: 'Dylan was nominated in his role as health and safety manager. Although he has only been with the company a little over a year, the evidence provided indicates that he has made a significant difference during this short time, to the credit of the company as well as to himself.'
The award for Wellbeing Initiative of the Year went to Quality Marking Services Ltd – for 'You Matter, We Care', to WJ Group – for 'Thinking Wellbeing' and Wilson & Scott (Highways) Ltd – for 'Road to Wellbeing'.
Having been unable to split the winners, the judges said: 'The matter of general wellbeing but particularly mental health is rightly receiving greater attention and it was encouraging that all three of the shortlisted companies provided a great deal of evidence to demonstrate their commitment to taking this health matter seriously.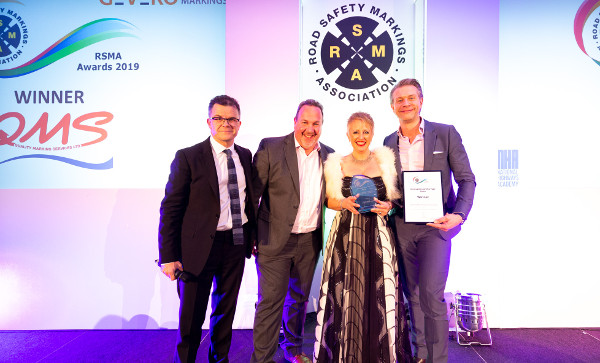 'All three entries were worthy of recognition and during the judging process it became apparent that it was impossible to split them. The judging panel therefore recommended the RSMA present the award jointly to all three shortlisted entries.'
Industry heavyweights WJ Group also won the award for Sustainability Project of the Year for their Development of a Carbon Footprint Model.
The judges said: 'WJ has developed an excellent model to evaluate the carbon consumption of the components used in their products. This has enabled the company to review its products and introduce some components with a lesser carbon consumption without detriment to their service life.'
The award for Innovation of the Year went to Quality Marking Services (pictured above) for Lazerlux: Evidence Based Asset Management.
The judges said: 'The Laserlux is a high speed scanning device that measures various road marking attributes at normal road speed. Although some mobile devices have been capable of collecting some road marking performance date in the past the panel considered this Laserlux device to offer sufficient improvement to be awarded this year's Innovation of the Year.'
The event also celebrated the achievements of 30 learners who have successfully completed the RSMA Apprenticeship Scheme or the Specialist Applied-Skills Programme between September 2018 and 2019.
The RMSA said that it and the Construction Industry Training Board 'are proud to support the road marking industry in recognising the importance of a highly skilled road marking workforce'.