Transport technology experts have urged ministers to 'pick up and run with' the findings of a new report that calls for a step change in work to exploit connected vehicle (CV) data.
The report on the Department for Transport's (DfT) connected vehicle data research argues that anonymous data generated by 'talking traffic' technology could be used by highway authorities to reduce traffic congestion, boost road maintenance and improve transport planning – 'all at a lower cost to the taxpayer'.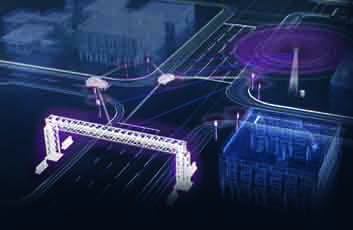 There is much untapped data that can be exploited quickly to improve roads the report argues, citing smarter parking, reduced congestion and better information as 'things that people want and are already feasible'.
It also suggests there are 'cashable savings to be made in the short-term from both smarter parking and asset management', an area where the UK is leading globally.
However, it also finds that 'a cultural change is needed, and commitment to accelerate the use of CV data', arguing that 'institutions, organisations and business models', rather than technology, are the key barriers.
The report states: 'While there have been many successful trial projects demonstrating this potential, the next step must be on a much bigger scale, with multiple services, a large geographical extent and real drivers.'
The Transport Technology Forum (TTF) called the research 'a big step forward' and said it 'shows that technology will be at the core of tomorrow's transport network'.
Steve Gooding, chair of the TTF and director of the RAC Foundation, said: 'We've all heard a great deal about the potential benefits to be gained from our vehicles being increasingly connected, but not so much about what those benefits are or how they are to be achieved.
'This report takes us a big step forward in understanding what's on offer and proposes a strategy for the way ahead, complementing our recent RAC Foundation report on the conditions needed to exploit connectivity. I sincerely hope the Department for Transport has the capacity and the appetite for picking up this strategy and running with it.'
The research was carried out by Atkins and Jacobs, supported by Andy Graham of White Willow Consulting, who led the consultation part of the project.
Mr Graham said: 'We need to move from isolated technology pilots to at-scale services, and this work is important to the TTF since it has been developed with UK local authorities very much in mind.'
The report identified six key themes for a potential strategy:
Talking Traffic Partnership UK: 'The DfT should set up an at-scale demonstrator to stimulate the growth of CV data use and demonstrate the benefits to stakeholders and public.'
Establishing and exploiting national facilities: 'The DfT should provide national facilities where this will drive progress, for example, national procurements to gain efficiencies and providing a focal point for stakeholder engagement.
Readiness of people and organisations: 'Training and support should be provided for roads authorities, to address skills and knowledge gaps and the need for cultural change, both of which are barriers to the greater use of CV data.'
Migration and legacy: Road authorities should be supported by the DfT to make the best use of their existing ITS and asset management technology while migrating to CV data.
Business case and procurement advice: Assistance should be provided by the DfT for roads authorities, so they can successfully generate investment and procure CV data or services.
National CV data service design guidance: Service design guidance and standards should be created to provide road authorities with the information they need to design and implement CV data services.