The Scottish Government has named its preferred bidders for two trunk road maintenance contracts in the south of the country.
BEAR Scotland Ltd will take over the South East Unit and Amey OW Ltd will operate the South West Unit. The contracts are estimated to be worth up to £720m and £690m respectively and will be formally awarded following a 10-day standstill period.
They will commence on 16 August 2020 and run for a minimum of eight years, with the option of an extension of up to four years.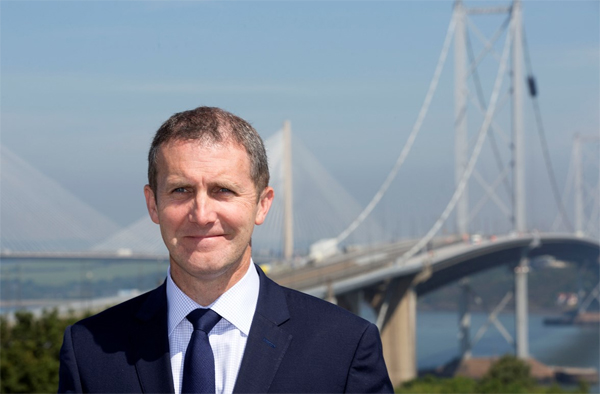 Michael Matheson cabinet secretary for transport, infrastructure and connectivity (pictured in front of the Forth Road Bridge and Queensferry Crossing) said: 'These new contracts will bring an improved level of service to the trunk road network in the south west and south east of Scotland.
'Road users can expect improved resilience measures aimed at ensuring consistent, predictable and reliable journeys. The new contracts also take into account the renewed focus on climate change and sustainability targets.'
Mr Matheson added: 'The contracts will directly support around 650 operational and professional jobs in Scotland. They will also contribute significantly to the economy through the wider supply chain, with local firms benefiting on a regular basis.
'I am confident these contracts will continue to deliver both a high quality and value for money trunk road maintenance service.'
The South East contract has been operated by Amey since August 2014 while the South West contract has been operated by Scotland TranServ since April 2013.
Contracts for the east of the country were previously let at the same time, while contracts for the west were aligned with each other. However the Scottish Government decided that for this round of contracts, it would let the southern regions first, then the northern regions, with procurement for the latter begining this year.
Both contracts in the north of the country are currently operated by BEAR Scotland. It will have to give up one of these contracts under the rules for this round of procurement, which stipulate that a contractor can only operate one contract in the north and one contract in the south.
A separate contract for the Forth Bridges Unit has been operated by Amey since June 2015 and there are also separate design, build, finance and operate contracts for specific motorways.