The Government has confirmed that all HGVs using the Short Straits channel crossings will need a permit to enter Kent.
The move is part of a series of measures that aim to minimise the risk of transport disruption at the end of the transition period on 31 December.
Legislation to enable the enforcement of Operation Brock – the traffic management strategy in Kent – has been brought forward to ensure the plans can be implemented if needed.
The new rules confirm that it will be mandatory for all HGVs using the Short Straits crossings to obtain a digital Kent Access Permit (KAP).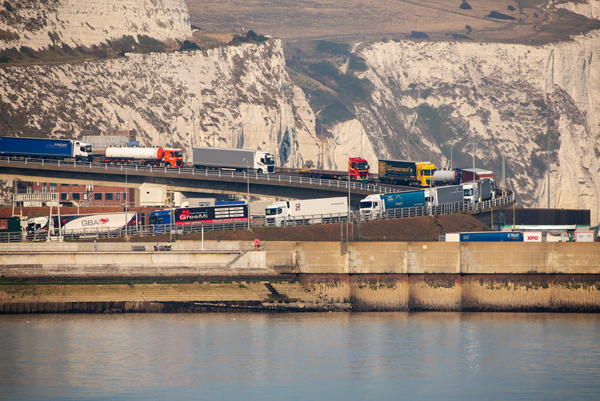 Officials said this follows completion of the Government's 'new easy-to-use Check an HGV service' and will ensure that HGV drivers who come prepared can move smoothly through Kent to the UK's trading ports, such as Dover (pictured).
The Government is also launcomg an information campaign preparing hauliers for the new customs procedures. The targeted campaign will use radio, press and digital advertising to make sure that hauliers are aware of the upcoming changes and have the correct documentation for each stage of their journey.
Transport secretary Grant Shapps said: 'It's sensible that we plan for all scenarios including the risk of short-term disruption to our busiest trade routes.
'By putting in place these plans we're ensuring Kent keeps moving, our fantastic haulage industry is supported, and trade continues to flow as we embark on our future as a fully independent state.'
A haulier handbook will be made available in 14 languages and hauliers are being encouraged to apply for an European Conference of Ministers of Transport (ECMT) permit as a precautionary measure.
Officials said that from January ECMT permits 'may be needed to support hauliers accessing the EU'.
The Government also announced that it will prioritise the journeys of 'a small number of HGVs with exports that are very time-sensitive' – such as fresh and live seafood, and day-old chicks.