Ministers have asked the council responsible for Hammersmith Bridge to pay £64m to its restoration, it has been reported.
The Times said the Department for Transport (DfT) wants a 50% 'local contribution' to the cost of repairing bridge, which was closed to motor traffic earlier this year after cracks were found and is now closed to all users.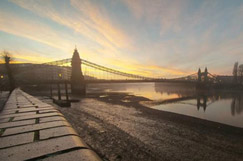 It said transport secretary Grant Shapps told Hammersmith and Fulham council that the money could be raised through a council tax increase or by raiding its reserves.
Repairing the bridge is expected to cost at least £128m and take many years.
Council leader Stephen Cowan told the paper: 'The £64m-plus demand is a cruel, unusual and unprecedented punishment for a local authority which only inherited ownership of the bridge in 1985, on the swipe of a civil servant's pen.
'We are as desperate as everyone else to get the bridge open again. It could be reopened for cyclists and pedestrians within nine months. But £64m is a level of funding that neither the people of Hammersmith and Fulham nor any other borough can afford even in the best of times. We couldn't afford it before the pandemic and we certainly can't afford it now.'
The DfT has said the current situation has resulted from 'a lack of proper maintenance throughout the years'.
A spokesperson said: 'We are committed to ensuring Londoners can cross the river again as soon as safely possible and Councillor Cowan has committed to submitting a funding proposal on how a local contribution might be raised.
'To date we are yet to receive this proposal and we cannot seek funding or move forward with further works on the bridge until we have that.'
In September Mr Shapps set up the Hammersmith Bridge Taskforce, chaired by transport minister Baroness Vere.
Following the lastest meeting of the group on Friday, Cllr Cowan accused the DfT of continuing to seek the re-opening of the bridge to pedestrians, cyclists and river traffic, 'with little money spent on safety measures'.
He said: 'Hammersmith and Fulham will continue to look at all possible means of safely having the bridge re-opened but will never take any decision that is against the specialist engineers' advice that there is a serious risk to the lives of the tens of thousands of pedestrians, cyclists, motor vehicle drivers and river traffic that used or travelled under the bridge each week.'