The latest findings from the 2018/2019 Transport Scotland live brine trials have been released and after three winter seasons of research, the recommendations have become clearer and the areas of further research more specific.
It has been one of the most long-running research projects in UK winter service. TRL, with funding from the Scottish Road Research Board (SRRB), and in partnership with Transport Scotland and the National Winter Service Research Group (NWSRG), finally seems to be in the endgame of their liquid versus pre-wetted salt tests.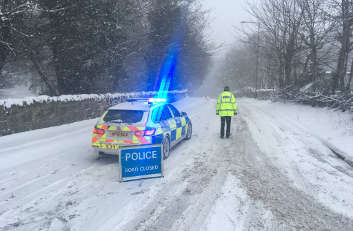 In its 2019/2019 Trials of Brine Spreading Performance on Scotland's Roads report it states: 'Brine spreading carried out using current treatment guidelines has provided effective precautionary treatments on dry, damp and wet roads.'
While 'observations and sensor measurements, including operator feedback, indicated that standard and higher brine share pre-wetted treatments provided improved performance over brine only spreading on very wet roads and snow conditions'.
'On low trafficked routes such as the A835 trial site, and in very wet and snow/slush conditions, the loss of the salt particles in dry and pre-wetted salt caused by traffic will be reduced compared to treatments on drier and/or more highly trafficked routes.'
However brine treatments particularly struggled in snow conditions: 'Where ice has formed or snow has settled on the road surface, dry or pre-wetted salt (salt:brine ratio of 70:30 or 50:50) is the preferred treatment, to penetrate snow and keep it in a soft and ploughable condition.
'Brine-only spreading in snow should only be considered for marginal conditions (e.g. temperatures greater than -1°C) and where the road can be kept clear either from frequent ploughing passes (as a minimum every 1 to 2 hours) or where there is sufficient traffic to mix brine into snow or disperse and prevent a hard packed layer from forming.'
Matthew Evans, senior researcher at TRL, told Traffex Scotland delegates this year that 'when you have snow it is better to have solid salt to clear it'.
He added that the next steps would include embedding research findings in Transport Scotland trunk road requirements and the national winter Practical Guide from the NWSRG.
He also said the report has also paved the way for further trials at 50:50 dry salt to brine, with 70:30 dry salt to brine being current standard.
'During these trials, because of the spreader's dry salt capacity, it was not possible to use a higher proportion of dry salt than 30%, but spreading at a 50:50 ratio of dry salt:brine might offer further improvements in severe conditions from increased residual salt levels.'
The aim is to confirm if this is the optimum treatment for the network. Mr Evans highlighted that liquids are used much more frequently in America, and so these tests aimed to close the gap between the UK's knowledge base and the US.
The A835 was chosen for the trials to provide the likelihood of the full range of conditions that are routinely experienced on the Transport Scotland network. The route includes single and dual carriageway sections and reaches an altitude of 284m.
It also experiences significant snow accumulations that can lead to drifting and jack-knifing of articulated vehicles on steep incline.
Monitoring equipment included:
Non-invasive DSC111 and DST111 sensors to remotely monitor road condition (wetness, snow, ice) and surface temperature (Aultguish only)
Road weather station including wind speed, embedded DRS 511 sensor (road condition and temperature), CCTV
Addition of an active freezing point sensor at Aultguish The road condition from the fixed sensors was continuously and automatically monitored every 10 minutes and the data collated and analysed.
Brine spreading was carried out using a Schmidt Stratos Combi Flex Spreader, the same vehicle as used in the 2017/18 winter trials, modified by the addition of a spray bar for application of brine only treatments (instead of spreading brine directly from the disc as used during the 2017/18 trials).
Brine was produced and stored at the Inverness depot for pumping into the combi spreader when required. Spread rates were dependent on a brine concentration of 20% to 23%.