Transport for London (TfL) has appointed Sopra Steria to run the FORS fleet accreditation scheme in a deal worth £45m.
The new contract will begin in January and will last for five years, with Sopra Steria taking over from current administrators AECOM following a competitive tender process.
TfL said bidders were evaluated on their ability to build on the success of the scheme. Although it did not state the value of the deal, a contract award notice published on Tuesday (12 October) gives the figure of £45m.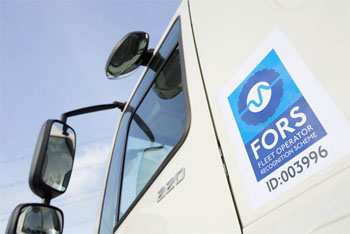 FORS, which was created by TfL in 2008, is an accreditation scheme recognising freight and fleet safety and environmental standards. The voluntary scheme audits fleet operators and awards bronze, silver and gold accreditations by asking them to demonstrate exceptional levels of best practice in safety and efficiency.
It currently has around 5,000 accredited operators, with approximately 110,000 vehicles across 17 countries. It was expanded nationwide after initially being run as a scheme for fleets operating in the capital.
Christina Calderato, director of transport strategy and policy at TfL, said: 'FORS has played an important role in driving up standards in the freight and fleet industry.
'We're pleased that Sopra Steria has signed a new contract with us to take over FORS, which will allow us to improve the scheme and continue our important work with freight operators to improve the safety and emissions of their vehicles. We'd also like to thank AECOM for their commitment to FORS over the years and for the role they've played in making the scheme a success.'
Adrian Fieldhouse, managing director, government sector at Sopra Steria, commented: 'Road safety has long been a focus in the UK and we're delighted to be working alongside TfL to not only help optimise mobility across the transport sector, but to help create both safer and greener roads.
'By providing an improved digital experience we hope to boost the FORS scheme, helping to make a real societal impact.'
TfL said encouraging fleet operators to take part in the scheme is an important part of mayor Sadiq Khan's Vision Zero goal to eliminate death and serious injury on the transport network and its commitment for London to become a zero-carbon city by 2030.
The transport authority's own vehicles are accredited to varying levels of FORS membership 'to maintain the highest levels of operational compliance'.
As part of the new contract, Sopra Steria will overhaul the scheme's website and booking systems, making it easier for members to access information and update their details, while creating a more user-friendly and accessible sign-up process.