The UK is facing heavy fines after being one of six nations referred to Europe's highest court for failing to tackle illegal levels of air pollution.
Councils in particular could be on the hook for the crisis, as central government can pass the fines on to local government.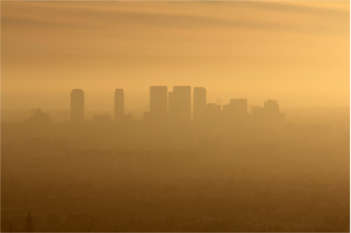 The European Court of Justice (ECJ) has the power to impose multi-million euro fines if the countries do not address as soon as is practicable.
A final warning had been given to the six nations - the UK, France, Germany, Hungary, Italy and Romania - by the European Commission in January. Toxic air, largely the result of surface transport emissions, is linked to tens of thousands of deaths every year in the UK.
Government ministers were forced by the High Court to improve their plans strategy to tackle the issue of Air Quality, after being defeated for the third time on the issue by environmental lawyers ClientEarth.
Karmenu Vella, European commissioner for environment said: 'We have waited a long time and we cannot possibly wait any longer. We have said that this commission is one that protects. Our decision follows through on that claim. It is my conviction that today's decision will lead to improvements for citizens on a much quicker timescale.'
The six member states had failed to deliver 'credible, effective and timely measures to reduce pollution as soon as possible, as required under EU law', the European Commission said.
The legal case now moves to the ECJ, which will hold a hearing within months. If it declares the UK in breach of its legal duty, the UK gets a period of time to resolve the situation. If it does not, the court can then impose large fines.
Neil Parish, chair of the Environment, Food and Rural Affairs Committee, said: 'The news that the European Commission will be taking the UK Government to court for dangerous levels of air pollution should be a wake-up call. It is astonishing that, despite a series of legal defeats, the Government has consistently failed to come up with a coherent and effective plan to tackle this national health emergency.
'Addressing the UK's toxic air should be more than just a box-ticking exercise. In our joint inquiry into air quality, we found little evidence of the decisive steps needed to protect the public. It is simply not acceptable that over 40,000 lives are being cut short each year because the Government is too timid to take the necessary action.'