The Welsh Government has launched an interactive map to gather opinions about local walking and cycling paths from communities in several areas across Wales.
Seven local authorities are using the Commonplace website this autumn with others to follow over the next few months.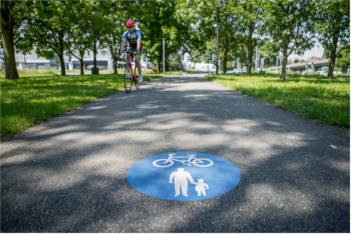 The map is designed to make it easier for people to tell their councils where existing routes need to be improved and new routes built.
The Welsh Government said: 'Each area will have its own Commonplace website which members of the public can access via a national page and people are encouraged to share with their friends, families and colleagues so that as many people as possible have their say.'
Deputy transport minister, Lee Waters, said the maps would help residents be fully involved when councils develop active travel network maps - a statutory obligation in Wales under the Active Travel Act - which plan where major improvements will be made over the next 15 year period.
He added: 'We want to tackle the many barriers that people face when considering whether to make their everyday journeys by walking and cycling. We want to capture people's local knowledge while it is still fresh in their minds. Where did their active travel journeys became difficult? Were there areas where they felt unsafe? Are there any places where they couldn't continue their journeys? Are there journeys they'd like to walk and cycle but don't feel safe doing so?
'Unfortunately, COVID-19 has also impacted the way councils can conduct public engagement. We recognised the need to make high quality digital engagement tools available to local authorities.'
Dr Dafydd Trystan Davies, chair of the Active Travel Board, said: 'This website will form an important part of improving the provision of active travel which will benefit the environment, health and the economy for all. I know of the enthusiasm within local areas for further developments and look forward to all councils engaging with the website and further developing ambitious plans during the next 12 months.'
The Welsh Active Travel Act is thought to be the first legislation of its kind in the world and requires local authorities to produce active travel maps and deliver year-on-year improvements in routes and facilities.
It also requires highways authorities in Wales to make enhancements to routes and facilities for pedestrians and cyclists in all new road schemes and to have regard to the needs of walkers and cyclists in a range of other highway authority functions.
Welsh ministers and local authorities must also promote active travel journeys in exercising their functions under the Act.