The widow of a driver who was killed in a crash on a smart motorway is to sue Highways England for corporate manslaughter, it has emerged.
Claire Mercer accused Highways England of failing to provide drivers with a safe place to stop and pull over and neglecting to implement adequate systems to detect a stationary vehicle in order to protect drivers stopped between lanes of fast-moving traffic.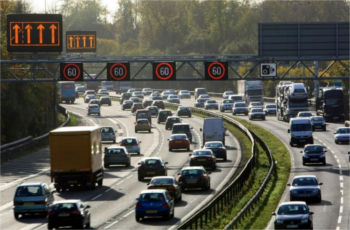 Her husband, Jason Mercer, 44, and another driver, Alexandru Murgeanu, 22, both died in June this year on the northbound M1 near Sheffield.
Smart motorways can convert the hard shoulder into a live traffic lane - known as all lane running. Instead, Highways England provides smaller 'emergency areas' at regular intervals for broken down vehicles.
Emergency areas on the first smart motorway on the M42 were up to 800m apart, Highways England then extended this to around twice as far apart - 1.5 miles apart - but was forced to back down.
Highways England chief executive Jim O'Sullivan has previously said, on the advice of the Transport Select Committee, that all new smart motorways will have emergency areas (previously emergency refuge areas or ERAs) a mile apart, rather than the maximum of 1.5 miles at present.
However this only applies to 'future schemes' from 2020, not an M4 scheme, on which major works began after Mr O'Sullivan's letter to the committee last January.
In the case of Mr Mercer and Murgeanu it is reported there was no lay-by close and the drivers had pulled over by a barrier to exchange insurance details when a lorry hit their vehicles.
Four people have now been killed on the M1 smart motorway in 10 months after they became stranded then hit by oncoming traffic.
Speaking to the Sunday Telegraph, Ms Mercer said she is seeking a judicial review over whether Highway England's decision to remove the hard shoulder was a breach of the company's duty to make motorways safer.
She accused the authorities of 'collective madness' over plans to double the smart motorway network from 416 to 788 miles by 2025 and predicted more deaths would occur if motorway drivers were not given more safe places to pull over.
A spokesperson for Highways England said: 'Our thoughts are with the family and friends of those involved in the incident on Friday 7 June.
'Safety is our top priority and we will continue to evaluate all lane running schemes and work closely with all the emergency services to ensure safety is maintained.
'The evidence shows that where all lane running has been introduced, there have been fewer collisions and congestion has reduced despite an increased number of vehicles using them.
'Police investigations are still ongoing into the incidents on the M1 so it wouldn't be appropriate for us to comment further until these have concluded.'
Highways England has argued its evidence indicates that since opening, across nine all lane running schemes the casualty rate has reduced by 28%.