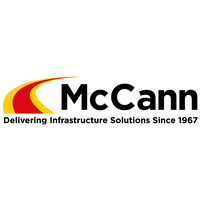 McCann House, 110 Nottingham Road, Chilwell, Nottingham, NG9 6DQ
0115 954 0166
McCann is a leading civil and electrical engineering firm based in Nottingham. Established in 1967, the company operates throughout the UK on major road, rail and airport infrastructure projects for both public and private sector clients.

As experts in LED street lighting and maintenance, power cabling infrastructure, smart motorways, communications and associated civil engineering, the business plays a key role in the development of project design and buildability whilst working comfortably within a wide range of contractual arrangements. McCann is also fully accredited with the National Electricity Registration Scheme (NERS), enabling the team to install, manage and design electrical connections safely and securely.

With a large, highly-skilled, directly-employed workforce, supported by an extensive specialised plant fleet, McCann takes on and delivers the most demanding projects within budget and on schedule - from design and planning to installation and maintenance.

Notable recent projects include the installation of smart motorway infrastructure between junctions 2-4 on the M6, LED lighting installation and maintenance term contracts in Calderdale and North & North East Lincolnshire as well as LED lighting upgrades in Birmingham and Tottenham Court Road, London.

Health and safety and collaboration play a key part in McCann's approach to project delivery and the team regularly receives glowing feedback from clients including Highways England. The most recent covered works on the Area 10 Asset Delivery Framework - showcasing the company's ethos and approach when working in partnership with both suppliers and clients.

The business was named as a finalist in the 2020 Highways England awards within the Home Safe and Well Champion category and has won the RoSPA Gold Award for five consecutive years - resulting in the company collecting the RoSPA Gold Medal in 2020. McCann has also been approved to deliver a range of new training under the Highways Electrical Registration Scheme (HERS), alongside its extensive range of additional industry-specific courses.

McCann is always conscious of its impact on the environment and achieved 'Go Ultra Low' status in 2019 after making 53% of its fleet of company cars either electric hybrid or fully electric. Following this achievement, the business has pledged to be all-electric across this fleet by 2025.

Engaging with corporate and social responsibility by encouraging diversity and equality within the workplace is at the heart of McCann's ethos, as well as engaging with local groups and charities in order to leave a lasting and positive impact.