A new drainage chamber constructed using 100% recycled polypropylene has been designed for traffic signals, street lighting and communication networks by Clark-Drain.
The B125 chamber is available in clear opening sizes of 300mm, 450mm and 600mm widths and is topped with a composite access cover with a galvanised steel louvre frame that is non-conductive and non-ferrous - and so protects pedestrians against voltage dispersion especially in wet environments.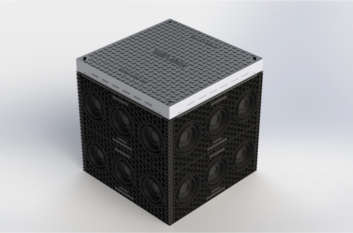 Unlike traditional brick chambers, the B125 chamber has push-fit connections, allowing interlocking panels to be assembled quickly to accommodate the recommended depths for different utility applications.
Clark-Drain said: 'Sliding T-Slot corner connections aid levelling and assembly, and trepanned entries allow standard duct entry diameters to be drilled with no measuring or marking.
'The unique honeycomb structure of the chamber panels allow concrete to flow into the voids, adding to the overall structural strength.'
The chamber has a PSRV slip resistance value of 60, and light vehicular traffic up to 12.5T total weight.
It also supports the Specification for Highway Works relating to the minimum depths of excavation for ducts and cables laid under verges, footways or open ground and is designed and manufactured in the UK.  
Visit www.clark-drain.com/clark-chamber to find out more and watch the detailed video of the new B125 chamber.