Transport secretary Grant Shapps has unveiled a £1.7bn Transport Infrastructure Investment Fund to improve roads, bridges and support targetted schemes such as bus lanes or safety interventions.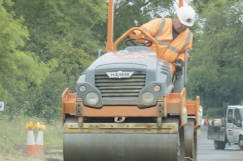 The Government has also committed to accelerating more than £175m worth of work to take advantage of a quieter road and rail network while people follow the guidance to avoid unnecessary travel.
Highways has approached the DfT over whether this is new money. Though seems unlikely that it will be, the commitment is a further sign of the Government's faith in roads and infrastructure as a means to help bring the country back from the brink after the economic devastation of the pandemic.
The DfT said that the package will target road maintenance and could cover the cost 'of around 11 million nuisance potholes enough to tarmac a road stretching a third of the way around the Earth'.
It will also see smaller improvements completed to upgrade local networks, 'such as enhancing road safety at key locations, the installation of priority bus lanes, and the creation of projects to help lock in improvements in air quality experienced during lockdown'.
The list of schemes suggests the funding could come from the £5bn package announced at the Budget for active travel and buses announced in February. As with the earlier £250m tranche of cash for emergency cycling and walking measures, there are no details yet on how the money will be allocated.
Mr Shapps said: 'There has been a monumental effort in every corner of the country to slow the spread of the virus and protect our NHS. However, the battle is not over yet and we urge everyone to keep up the good work and only travel when they need to.
'To help those who do have to use public transport or get out on the roads to do their jobs, we've been accelerating infrastructure upgrades to make sure that, as we gradually reopen our society, everyone can benefit from smoother and safer journeys with better connections for our future.'
On the advice of the Government, the highways sector and its #HighwaysHeroes on the frontline have kept working as much as possible throughout the crisis.
Highways England has led the way, pushing for a business as usual approach wherever possible.
On England's motorways and major A-roads £200m of work carried out in April while some £550m of improvements and maintenance were also completed on the rail network, the DfT said.
Sir Peter Hendy CBE, chairman of Network Rail, has been asked by ministers to oversee how operators can best act in line with the Government's guidance to keep passengers safe.
As part of this, rail operators have been asked to deliver regular station speaker announcements, clear signage and floor markings, while ensuring extra staff are available to manage crowding and provide guidance to passengers.
Enhanced cleaning regimes on trains and at stations have also been introduced by operators and Network Rail.