Transport Scotland has insisted that it is committed to dualling the A96 and A9 after a top official told a Scottish parliamentary committee that the schemes were 'up for debate' as part of a review of major projects.
At a meeting of the Rural Economy and Connectivity Committee, Green Party MSP John Finnie asked Transport Scotland's director of roads, Hugh Gillies: 'For the avoidance of doubt is there a review of whether we are going to continue with the dualling of the A9 and A96?'
Mr Gillies said: 'What I will say is that all of this is up for debate as part of the Strategy Transport Projects Review.'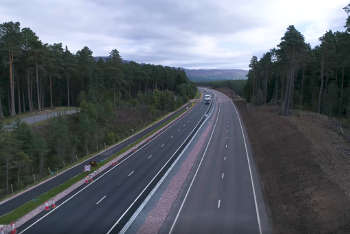 The A9 Dualling Perth to Inverness is one of Scotland's largest transport infrastructure programmes and aims to upgrade 80 miles of single carriageway between Perth and Inverness with a budget of £3bn.
The project to dual the A96 between Inverness and Aberdeen also has a £3bn budget.
Transport Scotland said the Strategic Transport Projects Review is being undertaken in tandem with the review of the National Transport Strategy and 'will set out the future strategic transport investment priorities for Scotland'.
A spokesperson said: 'The Scottish Government is committed to dualling the A9 between Perth and Inverness and the A96 between Inverness and Aberdeen, underlining its commitment to connecting Scotland's cities with a high quality transport system that will sustainable generate economic growth.
'When complete these ambitious programmes will bring many benefits to local communities, businesses, visitors and road users living, travelling and working along the routes. These include reduced journey times, improved journey time reliability and, crucially, improve road safety for all users.'
Mr Finnie's question followed questions from MSPs as to whether the Scottish Government's plans to expand its road network were compatible with its plans to tackle climate change and whether it should focus more spending on maintaining its existing network.
Labour MSP Colin Smyth suggested that a policy of restricting new road schemes after current ones are finished could be resented by residents in parts of the country that had not benefited from those schemes.
Traffex Scotland takes place at The SEC in Glasgow on 13 and 14 November 2019 and together with Bridges Scotland remains the country's only dedicated event for the roads and bridges sector.