New research has revealed the importance of digitisation throughout the supply chain, with 83% of senior figures in civil engineering stating they require subcontractors to use software and real-time systems.
Close to 90% of those surveyed said the ability to force health and safety compliance in all jobs was the most critical factor when choosing a subcontractor, followed by the ability to provide reports on all site activity (87%) and real-time site updates (85%).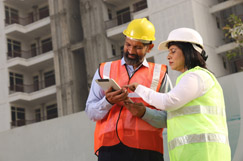 Conducted on behalf of MyMobileWorkers, which provides industry-leading mobile working solutions, the research polled 101 managers, senior managers, directors, C-level executives, and company owners.
As well as highlighting the importance of real-time digital records for improved data accuracy — to protect from compliance breaches, ensure quality of work, and cut admin time - the research also revealed concerns about the lack of such digitalisation further down the supply chain.
When asked about the overall quality of data from subcontractors using paper job sheets, one in five said it was unreliable, and 45% said they were concerned this group of subcontractors couldn't produce an audit trail.
Senior decision-makers were the least confident that paper-based job reporting delivers on compliance and high-quality work.
More than half of those surveyed were worried that a failure to prove compliance would damage their brand reputation, with 41% raising fears over a risk of fines or financial penalties and 50% worried it could see them lose the contract or further business.
'The interlinked issues of demonstrable compliance and provision of accurate data are serious worries for civil engineering companies that subcontract their operations,' said Tony Milford, managing director for MyMobileWorkers.
'Poor or non-existent audit trails, in particular, can cause issues around complying with industry regulations, demonstrating high-quality work, avoiding fines, and presenting an accurate representation of time on-site.'
He added: 'Subcontractors without such a trail can have issues with ISO audits and face significant problems if an on-site incident occurs, as it's difficult to prove where the responsibility rests. A move towards real-time digital job reporting can solve many of these issues. It should therefore be high on the list of considerations for civil engineering companies in the coming months.'
The online research fieldwork took place amongst 101 respondents this year. It was carried out by Atomik Research, an independent creative market research agency. MRS code