North Yorkshire County Council remains in 'detailed discussions' over cost overruns on a major road scheme, two months after it was completed.
The council said the upgrade to Junction 47 on the A1(M) is already having huge benefits for commuters, residents and holidaymakers amid the summer tourism season.
However, it added that 'challenges' encountered on this complex project increased the cost, which was approximately £10m in September 2021 compared with an original budget cost of £7.7m.
It said the latest estimated costs are the subject of detailed discussions with the its contractor – Farrans – and will be publicly available once they have been agreed. It made the same statement in late April, when the scheme opened.
The council said the delays were caused by the discovery of great crested newts, which legally had to be relocated, as well as poor ground conditions on the southbound slip road. It added that during the pandemic, workers had to comply with secure site procedures, which also extended the timescale.
Its executive member for highways, Cllr Keane Duncan, said: 'The upgrades to Junction 47 have made a significant difference, reducing congestion and improving road safety.
'The scheme unlocks future growth in and around Harrogate, with the changes helping to manage significant residential and commercial development anticipated along the A59 corridor.'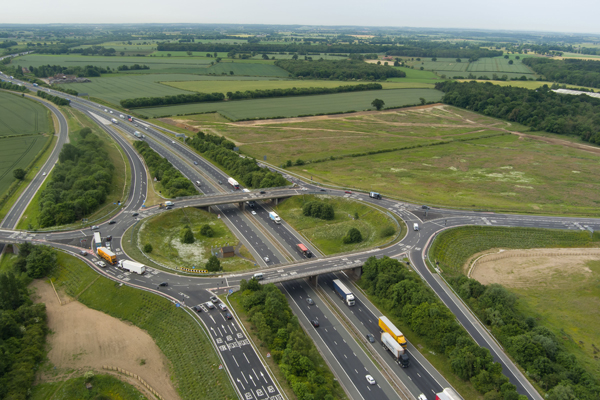 The junction from the north, with the A168 running parallel to the east of the A1(M)
The scheme involved the widening of three of the four slip roads onto and off the roundabout to increase capacity, as well as a number of junction improvements.
Traffic signals have been installed on the roundabout to improve traffic flow and added to the T-junction between the A168 and the A59 a short distance from Junction 47 on the York side to benefit drivers turning onto the A59 and to improve safety.
To the west of Junction 47, between the A1 and the Flaxby roundabout, a lane has been added for traffic travelling east, so there is two lanes in each direction between those two roundabouts.
The project was supported by £2.47m from the Local Growth Fund, along with contributions from the county council, National Highways and developer Forward Investment LLP.