Key figures in the sector have backed the publishers of the ALARM survey in calling for sustained and consistent funding for the local authority road network.
Jonathan Pearson, president of the Institute of Highway Engineers, cautiously welcomed the results, which showed that ecent increases in local authority highway maintenance budgets appear to be stemming the decline of local roads, but told HIghways: 'It's clear longer-term funding issues remain. A sustainable solution for maintenance funding is needed to help local highway authorities manage their networks, supporting an asset approach and ensuring the skills we need are in place.'
Paul Tuohy, Cycling UK chief executive, said: 'Cyclists, like pedestrians, suffer particularly badly from poor road maintenance, as the outcome is far more likely to involve personal injury.
'Cycling UK supports the AIA's call of 'don't stop now', as if the Government wants to maximise the benefits of cycling as a clean and healthy day-to-day transport option, it needs not only to increase funding for road maintenance, but also to devote a greater proportion of it towards the local roads or streets where people make their local journeys, to school, to work or the shops.'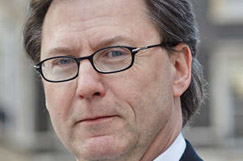 Steve Gooding, director of the RAC Foundation and a regular Highways contributor (pictured), said the report 'shows why a move away from patch and repair to a sustained investment plan is so urgently needed'.
He said: 'The government was rightly congratulated when it committed to a five-yearly work and funding programme for our major roads including motorways, but we are yet to come up with something similar for council-controlled highways.'
Both the Local Government Association (LGA) and the RAC repeated their calls for 2p per litre of existing fuel duty – equivalent to around £1bn a year – to be allocated to local road maintenance.
Cllr Martin Tett, the LGAs transport spokesman, said: 'Faced with severe financial pressures, councils have managed to spend more on road repairs in the past year in order to fix a pothole every 17 seconds.
'Despite these efforts, it is clear that our roads are deteriorating at a faster rate than can be repaired by councils, with the cost of clearing our alarming national roads repair backlog on the rise and now at almost £10bn.
'Extra one-off funding announced in the Budget will help councils continue to try and improve roads this year but the Spending Review needs to provide councils with long-term and consistent funding to invest in the resurfacing projects which our road network desperately needs over the next decade.'
The RAC's head of roads policy, Nicholas Lyes, acknowledge that more money appears to be getting through to councils, but said this was 'simply not enough'.
He said: 'The results from this year's survey chimes with our own breakdown data, which suggests the overall state of the UK's roads is not getting any worse. But this is hardly positive – it remains the case that a driver today is still more than twice as likely to breakdown as a result of a pothole than in 2006, and potholes not only cause expensive damage to vehicles but are also a very real road safety danger for drivers, bikers and cyclists alike.
'And, surely it shouldn't be the case in 2019 that a driver can switch from a major A-road to a minor road and see an immediate degradation in surface quality.'
A Department for Transport spokesperson said: 'Potholes are a huge problem for all road users and the Government is taking action, providing local authorities with more than £6.6bn for roads maintenance and pothole repair in the six years to 2021.
'In addition, we are trialling new technologies to stop potholes from forming as well as new ways to repair roads.
'We are now also consulting on increasing the standards of roadworks by utility companies to help keep roads pothole-free for longer.'