ASI Solutions has signed an exclusive agreement with Jobling Purser to supply leading BBA HAPAS certified asphalt preservation product Rhinophalt.
This new agreement forms a key part of a two-year strategic review of the market by ASI, as it aims to expand its supply base in the UK and internationally due to increased demand for Rhinophalt.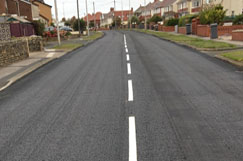 As well as BBA HAPAS certification, the Rhinophalt product also carries the new UKCA/CE marking.
Following the post-Brexit trade agreement, Highways England said it will stop accepting the CE mark as a sign of product conformity and companies will need to show a UK Conformity Assessed (UKCA) mark.
The deal between ASI and Jobling Purser highlights the UK's expertise in asphalt preservation with over 19 million square metres of Rhinophalt already applied around the globe.
Managing director of ASI Solutions, Howard Robinson, said: 'It was important for ASI Solutions to work with a trusted and respected quality manufacturer and that is why we chose to work with Jobling Purser. I look forward to a long and prosperous working relationship, that will enable us to not only expand our business but to supply more quality product to our customers in the UK and around the world.'
David Jobling-Purser, sales and marketing director at Jobling Purser, said: 'We are very pleased to be working with ASI on this great product, with its proven track record of keeping roads in better condition for longer.'
ASI Solutions also has an exclusive global licence with Asphalt Systems Inc in the US to operate the technology exclusively around the world.
The company highlighted that Rhinophalt 'can double the asphalt surface course service life of a road for half the cost compared to resurfacing, therefore reducing the demand for reactive maintenance, with fewer potholes and fewer claims'.
It helps sustainability challenges 'providing more than 90% in carbon savings compared to traditional resurfacing,' ASI said.
The solution preserves, protects and extends the life of the asphalt infrastructure and is proven to withstand all extreme weather conditions.
Rhinophalt is the only asphalt preservation product that contains Gilsonite, which is naturally hardened bitumen. As well as all types of roads, including the M40, Rhinophalt has also been successfully applied to bridges, airports and test tracks around the world.
Jobling Purser is a family-owned and run business with a trading history, which reaches back to the 1830s.
It develops and produces a wide range of British Standard products which are used all around the world. As specialists in producing highway maintenance solutions, it applies its knowledge of bitumen to a wide range of industry applications.