Contractors have called for ministers to take action after an official report found that infrastructure investment and planning decisions need to take better account of road and rail connections to ports.
The Department for Transport (DfT) has published a study of England's port connectivity, which found that better connections to English ports could help businesses thrive and boost the nation's economy in the run-up to Brexit.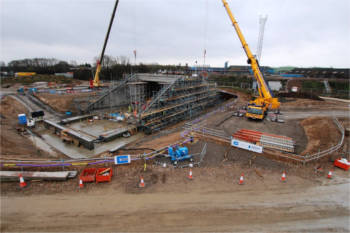 The study states: 'There is an increasing awareness of the importance of road and rail connectivity to ports, but we need to ensure this is consistently and fully factored into investment, infrastructure and planning processes.'
Shipping minister Nusrat Ghani said: 'Better links won't just boost imports, but will also support British companies that export products across the globe, helping them exploit new international trade opportunities.'
However, the DfT has made no commitments on future investment on road or rail links.
On roads, the report states that 'considerable engagement has taken place between the study team and road investment colleagues in DfT and Highways England to ensure the needs identified by this Study are fed into the development of future roads infrastructure'.
Marie-Claude Hemming, director of external affairs for the Civil Engineering Contractors Association, said: 'Ports rely on good infrastructure to be successful. If England's ports are to thrive after the UK has left the European Union, it is vital that the right projects are delivered in the right places, boosting connectivity and and facilitating the movement of goods.
'At the same time, investing in England's key ports will be key to rebalancing the economy away from over-reliance on the South East.
'That's why we have called for full Government commitment to the Northern Powerhouse Rail programme, with an emphasis on the trans-Pennine route, to support passenger growth and freight needs, linking the major ports in the North.
'Similarly, improved road and rail links to the east coast ports of Hull, Immingham, and Grimsby, will support freight growth, hinterland development, and support for offshore wind generation.'