Aggregate Industries has transitioned to warm mix asphalt (WMA) production as standard across its asphalt product portfolio.
The firm said a number of its customers are already seeing the benefit of the product, which is mixed at temperatures 20 to 40 Celsius lower than hot mix asphalt, providing a significant reduction in CO2 emissions. In addition, nuisance fuming, odour and steam at the project site are reduced, providing better and safer working conditions.
It added that WMA also reaches trafficking temperatures quicker while lower production temperatures greatly reduce binder ageing and, in combination with the highly compactable nature of the asphalt, pavement life expectancy is significantly enhanced.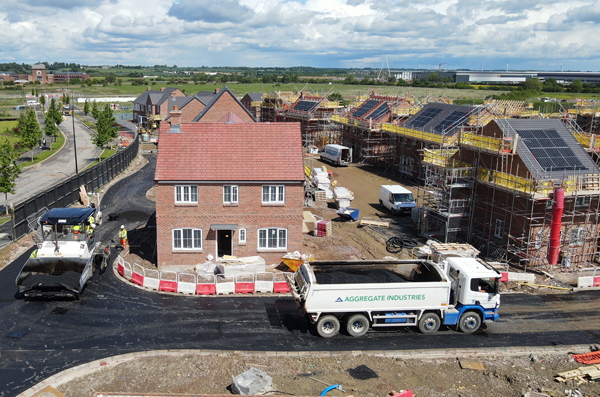 Premier Road Surfacing has already switched to Aggregate Industries' WMA
Vicky Smith, managing director of asphalt at Aggregate Industries, said: 'Our position as the UK's leading building materials supplier means our contribution towards the transition to net zero must be intrinsic. We recently made the switch from hot mix to warm mix asphalt across our range of asphalt products, which our customers have been piloting for a number of months.
'Decarbonising construction materials and activities lies at the heart of Aggregate Industries as we strive to pave the way for a greener future. That's why we have changed our way of working to use WMA as standard, which offers efficiency, sustainability and health and safety benefits without compromising on performance.'
Aggregate Industries said lower temperatures for mixing also means that WMA is easier to transport over long distances, saving time and money. It added that when conventional asphalt is transported over long distances the logistical range is often restricted by asphalt temperature loss, while WMA asphalt offers potentially longer haulage times to transport the product further without compromising workability.
The firm manufactures a wide range of WMA products, including what it says is the UK's first ever commercially available biogenic asphalt – SuperLow Carbon.