Campaigners have asked the Government's communities secretary to hold a public inquiry into plans for a £80m relief road in Shropshire.
Shropshire Council's planning committee considered and approved the authority's own application for the North West Relief Road (NWRR) in Shrewsbury on 31 October.
However, campaigners at Better Shrewsbury Transport (BeST) have said the scheme is 'widely expected to cost around £230m' and want Michael Gove to call in the planning application.
In a 58-page letter to the Government, BeST highlighted several concerns including a risk to drinking water, doubts over the council's claim that the road will reduce greenhouse gas emissions and 'exceptional levels of opposition'.
The NWRR plans would provide a new single carriageway road linking the northern and western parts of the town and include new bridges over the River Severn and the Shrewsbury-Chester railway line.
The current cost of the road is £80.1m, which is £7m lower than an earlier version of the scheme. The council said an up-to-date figure will be included in the full business case for its application for large local majors funding from the Department for Transport (DfT) next year.
The planning decision has already made national headlines over the threat to nine 'irreplaceable' veteran trees, including the 550-year-old Darwin Oak.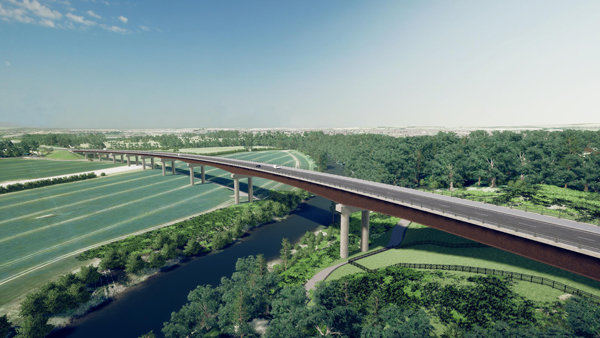 BeST said the NWRR will involve constructing a roundabout within the inner Source Protection Zone of Severn Trent Water's public water supply borehole for Shrewsbury and large parts of Shropshire.
They added that statutory consulted, the Environment Agency, has repeatedly raised the alarm over the risk of significant and 'irreversible' contamination to the borehole.
Retired hydrogeologist Mike Streetly said: 'We are flabbergasted that the planning application could have been nodded through in its current state and with a whopping 36 planning conditions attached.
'We are calling on the secretary of state to launch a public inquiry to ensure that UK taxpayers' money isn't being spent on a scheme that could have catastrophic risk attached to it.'
Shropshire Council has said the NWWR will take traffic out of Shrewsbury town centre; improve safety, help improve air quality and boost the county's economy.
It added that the road is key piece of transport infrastructure that completes a ring around Shrewsbury that has been unfinished for 30 years.
Cabinet member for highways Dan Morris said planning delays had meant that objections to the scheme 'have been put through a very high level of scrutiny'.
He said: 'I absolutely accept that the NWRR divides opinions, but I'm confident that it will make a huge difference to people, not only within the town, but also in the surrounding villages.'