Having completed his three-year tenure as chairman of the Road Safety Markings Association (RSMA), Paul Aldridge has moved on to the role of vice-chairman for the next two years.
He has been replaced as chairman by industry stalwart Steve Scott of Wilson & Scott.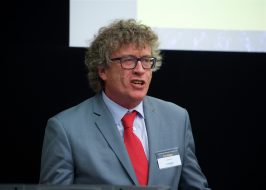 Stu McInroy, RSMA CEO, said: 'Paul has been an outstanding servant to the RSMA over the last three years, the association would not be the organisation it is without his dedication.
'Paul's successor Steve Scott has a wealth of industry knowledge and experience and the RSMA is in the truly enviable position of being led by him for the next three years.'
Mr Aldridge, who is also WJ Group's sustainability director, said: 'When you join the industry you never quite realise that you will ever reach the position I just had. It is an incredible honour to be elected by your peers to lead the trade organisation. It has been really important to me. This is as big as it gets in our little industry.'
As a parting act as chairman, Mr Aldridge put forward a motion to raise the driving standards in the road markings sector by giving up the exemption that allows construction drivers to use normal category B driving licences.
Under the new plan the RSMA will expect drivers to be trained up to LGV license standards to help improve safety.
His successor Mr Scott has been on the executive committee longer than anyone else and is in his second term.
Mr Aldridge praised Mr Scott as having done 'a fantastic job' in helping set up the RSMA's new apprenticeship scheme.
His only advice to Steve would be to 'carry on the good work and push forward to keep our industry well represented'.