Bradford Metropolitan District Council has awarded Amey a contract worth around £35m over four years to upgrade its street lighting and help it develop as a smart city.
Amey will provide services to survey the 56,500 street lighting assets, provide design for 53,700 units and replace 48,300 existing street lights with energy efficient LED luminaires, including the replacement of approximately 15,600 expired columns with a further 5,000 columns being modified.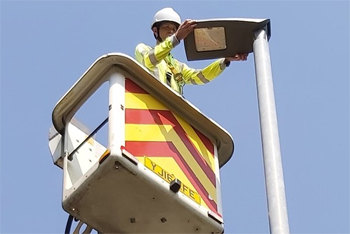 The firm said it will use the latest innovative solutions, technology and in-house design capabilities to protect the environment by reducing energy consumption and carbon emissions by 65% and reduce ongoing maintenance costs for the client and customers.
It added that an important aspect of the contract is that it is providing social value commitments, through a range of initiatives to provide opportunities for young, unemployed and disabled people, together with providing voluntary work to support and benefit the community.
Peter Anderson, managing director for transport infrastructure at Amey, said: 'Our Transport Infrastructure business has a wealth of experience in delivering street lighting contracts throughout the UK, so to be chosen by Bradford Council is a fantastic acknowledgement of our expertise.
'For us, this contract is not just about providing better street lighting for the district, it's also about helping to enhance the area for local communities through our social value commitments.'
Alex Ross-Shaw, the council's regeneration, planning and transport portfolio holder, said: 'The council is looking forward to working with Amey to deliver the exciting Smart Street Lighting project, which will not only provide significant energy savings, improved reliability and dynamic lighting control but also a platform for the Internet of Things connectivity to provide the council with the ability to develop as a Smart City.'
Amey currently operates street lighting contracts in Norfolk, Walsall, Manchester and Wakefield, managing a total of over half a million streetlights across the country.
It also has completed LED upgrades in Sheffield, Birmingham and Trafford and is currently in the process of an LED upgrade in Edinburgh.