Delegates at CAV Scotland 2018 will be able to enjoy an autonomous driving experience in a colourful and distinctive AurriGo PodZero, designed to carry four people for journeys from transport hubs to and from a wide range of destinations.
The electrically-powered pods operate using short and long-range LIDAR and cameras mounted front and rear, as well as inside.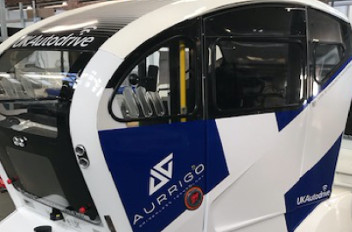 Visitors will also see in action a three-wheeled line marking robot introduced to the UK by leading road marking specialist WJ. Dubbed 'Roberta', the robot lays out pre-marks in advance of permanent markings. A recent project had the robot marking out a 5km hard shoulder line on both sides of the carriageway, completing the task – without risk to road workers – in five hours – a job that would normally take an engineer four shifts.
These are two of the live demos to take place at the two-day event at the Royal Highland Centre in Edinburgh, alongside Traffex Road Expo Scotland, on 31 October and 1 November, bringing together experts and thought leaders in the field alongside the technology companies/demonstrators and associated organisations with an interest in CAVs (connected and autonomous vehicles).
The Scottish Government's Programme for Government has set clear objectives for Scotland in delivering a low carbon economy. This includes commitments to low and ultra-low emission vehicles, the phasing out of the need for new petrol and diesel cars and vans by 2032 and the introduction of an 'Electric Highway' along the A9,
Michael Matheson MSP, cabinet secretary for transport, infrastructure and connectivity, who will give the keynote address on 31 October, said: 'The deployment of connected and autonomous vehicles in Scotland will bring transformative change to the way we travel and work, as well as having a positive impact on the economy, the environment and safety. Scotland is very much open for business when it comes to trialling these vehicles, with our trunk road network providing a wide range of environments as a diverse testing ground.'
Speaking at the conference, Chris Jackson from law firm Burges Salmon, will discuss the legal implications of emerging transport technology. 'Connected and autonomous vehicles are rapidly becoming a technological, social and economic reality,' he said.
'They will change the way we travel and the way we think about transport. Whilst the technology is undoubtedly fundamental, it is critical that the legal environment evolves to reflect the emerging challenges presented by the development of CAVs in an appropriate and timely way. Law must be an enabler of change and the Government's initiation of a three year review by the Law Commission recognises this.'
Adrian Tatum, head of events for Transport Network, which is organising demonstrations and the conference programme said: There are still many unanswered questions around CAV development: preparing our roads for autonomous vehicles; insurance and legal issues; and public confidence.
'The CAV Scotland event is the perfect opportunity to answer some of those questions and demonstrate why Scotland is the ideal place to continue the debate and to host further necessary trials and research.'