British Telecom (BT) has been ordered to pay a record fine for putting the public at risk during street works in the capital following a prosecution by Transport for London (TfL).
At Westminster Magistrates Court last week, BT's Openreach division, which manages its fibres, wires and cables, pleaded guilty to the unsafe execution of streetworks with significant risk to public safety. It was fined £90,000 and ordered to pay a further £3,394 in court costs.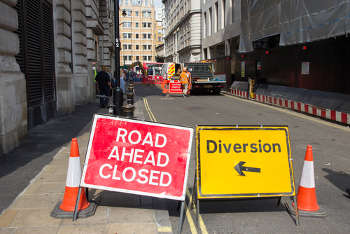 TfL said that when passing sentence the District Judge referred to 'a disconnect between BT and its contractors', which had led to the breaches.
Glynn Barton, TfL's director of network management, said: 'The safety of the public and workers should be top priority when undertaking roadworks. We have prosecuted BT for streetworks offences 47 times since 2010 and they still continue to breach the rules.
'It is absolutely vital that companies such as BT ensure safety on site and we will always push for the strongest possible action against those that put the public at risk. We are working with utility companies, including BT, to ensure that roadworks are carried out safely in the future, with minimal disruption to road users.'
During works at Bishopsgate in the City of London last August, part of TfL's strategic road network, BT failed to properly sign and guard the work area and also used the wrong traffic management methods.
TfL said despite its repeated demands BT failed to take actions to improve the situation, leading to unsafe conditions for road users, pedestrians and cyclists.
It is the second time in 12 months that TfL has taken the utility company to court for unsafe working practices. It has issued BT more than 1,066 Fixed Penalty Notices since 2010.
An Openreach spokesperson said: 'We fully accept the Judge's decision and we're sorry that our safeguards weren't up to scratch in these two cases. We carry out 3,500 projects like this every month across London and over 99 per cent are completed without incident.
'Safety of the public is absolutely paramount to us, and we've put further measures in place for our contractors to follow that we believe will prevent this happening in future.'