More than 10,000 people have signed an online petition objecting to Highways England's plans to infill or demolish more than 100 disused railway bridges, which campaigners say could be needed for new rail or active travel routes.
The Government-owned company manages the Historical Railways Estate (HRE) of 3,200 structures on behalf of the Department for Transport.
The HRE Group, an alliance of engineers, cycling campaigners and greenway developers, said Highways England intends to demolish up to 480 structures between now and 2030, with 115 bridges and tunnels earmarked for infilling as part of an ongoing first phase.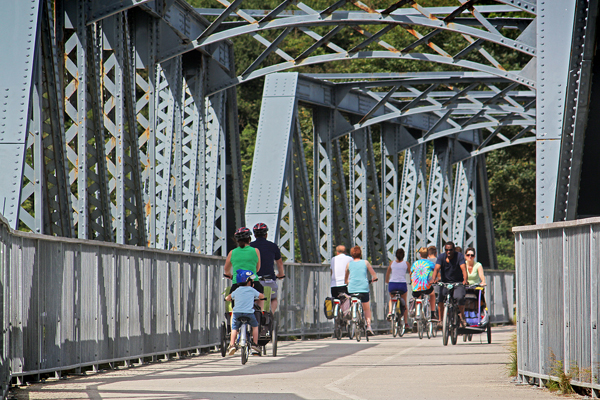 Cyclists cross a re-opened railway bridge at Little Petherick Creek in Cornwall
The group said its own appraisal found that about one-third of these structures are already proposed for reuse as part of new cycle paths, re-opened railways and extensions to heritage lines, 'or have been identified as having clear potential for similar projects in the future'.
It added that while Highways England states that the bridges have failed structural assessments to carry 44-tonne lorries and no weight restrictions have been imposed, evidence obtained under the Freedom of Information Act suggests that 55 (48%) have not failed their assessments.
In addition, 24 (21%) are regarded as 'fit for purpose' and eight (7%) do have weight restrictions while most of the structures are crossed by roads that heavy vehicles could not use, the group said.
Chris Todd, director of Transport Action Network, said: 'There's a lack of joined-up thinking here. Across the country, new cycle routes are needed to support the Government's active travel policies. Yet a handful of officials within the Department for Transport and Highways England are taking a wrecking ball to structures that could be vital in providing better access to our countryside.
'Our great railway heritage should not be viewed as a liability and it has to be asked whether Highways England is really the right body to be managing these important assets.
'We don't dispute that structures have to be kept in a safe condition, but modest repair interventions will do the job in most cases and make more sense economically.'
The group said while that Highways England data shows that around £25,000 is spent on repairs and assessments to each legacy rail bridge every 10 years, its last five infilling schemes each cost an average of £145,000, meaning that no cost saving is typically made for 58 years.
It has also accused Highways England of undermining the democratic process, with most planned infilling schemes pursued under Permitted Development powers. It said most of the bridges span disused railways that are safeguarded for future reuse under policies adopted by local councils.
It is trying to stop Highways England's plans by lobbying MPs and through the online petition.
It pointed out that although transport policy is largely a matter for devolved administrations, around 19% of the HRE structures under Highways England's management are in Scotland and 11% in Wales.
Highways England told Highways that it had contacted all local authorities affected at the same time to advise them of its plans and see if they have any use for the structures.
It said its preferred option in all cases was to transfer ownership to the local authority together with a contribution to future maintenance and that in many cases it has worked with councils and local groups to find alternative access for pedestrians and cyclists or transfer ownership for future use.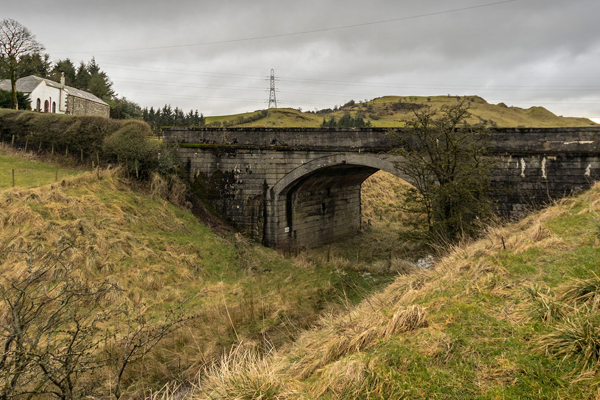 Jaapston Bridge in East Renfrewshire ©Allan Ogg
A spokesperson said: 'To maintain the safety of communities living near, and the vehicles using, Historic Railway Estate structures, we are planning to infill 115 bridges.
'Local highway authorities have responsibility for applying weight or traffic restrictions or closing the road, but where this hasn't happened infilling is the safest and most appropriate option. Infilling helps maintain access across structures and permanently remove the requirement for the weight restriction.
'We are acting to keep people safe from actual risks identified by experienced engineers who have had the benefit of inspecting the structures.'