Transport secretary Michael Matheson said connected and autonomous technology has the capacity to reshape communities after he rode groundbreaking automated bus technology on the opening day of CAV Scotland.
The cabinet secretary for transport, infrastructure and connectivity joined other delegates and national media on Europe's first full-sized, self-driving bus (pictured) at the major event in Glasgow, which is part of the Traffex Scotland conference and exhibition.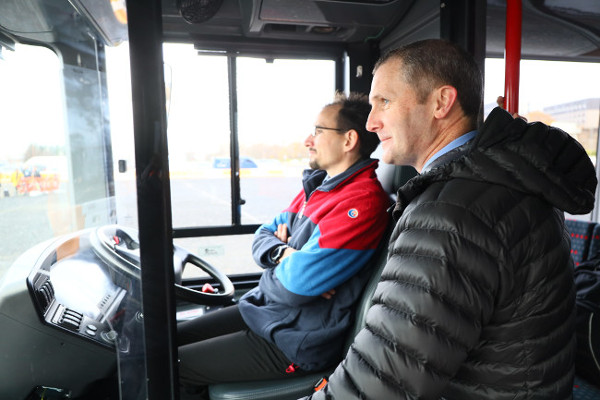 Mr Matheson said that connected and autonomous vehicle (CAV) technology could reshape the way communities are planned and designed.
'We are keen to make sure that we capitalise on the development of CAV technology to improve our own transport system, and our communites, to see how we can redesign our communities to make them safer and friendlier. CAV has a real potential to have a signifcant impact on that.
'The potential of autonomous vehicles to change how we we strucrture the road network, how communities operate, how they are designed, the impact on environment all could be very significant in the years ahead.'
He added: 'We want to make sure that Scotland is a forefront of the technology as it is developed and also as it is tested out and that is why we taking forward this particular bus project that from next year will see autnomous bus running from Fife into Edinburgh, which bus passengers can use.
'This is a really good example of not only capitalising on the technology but also making sure we deploy it in areas where we think it can have the biggest impact.'
Mr Matheson described the CAV event, organised by Transport Network on behalf of Transport Scotland, as a centrepeice of the annual conference agenda.
'I was really impressed when I came along last year [to CAV Scotland] at the scope, which was good. We can see this year there has been a significant increase in the number of exhibitors that have come along and also the range of technology now being demonstrated,' he said.
'It is really encouraging. What I am keen to do is make sure we capitalise on that in Scotland and this is very much part of our annual agenda in making sure we are supporting this technology as we go forward and exhbiting it and demonstrating how it is progressing so quickly.'
The autonomous bus will be used across the Forth Bridge next year and while there is no date for the trial, the first look at the technology at CAV Scotland attracted attention from national outlets like BBC Scotland.
The bus will use Level 4 automation and so will operate on a predetermined route with a driver in the vehicle who can take over if necessary - Level 5 would be full autonomy.
Key foundations to the Scottish Government's CAV plans are set to be outlined in its 'connected and autonomous vehicles route map', which will set out in detail it expects to see the technology implemented.
That document is due to be published later this year and will also outline how the devolved government plans to support businesses and academia in this sector.