Parliamentarians have called for a new Highways Act and significantly increased funding to achieve the levels of active travel needed to support decarbonisation targets.
The All Party Parliamentary Group (APPG) for Cycling and Walking has published a report entitled Reaching Our Active Travel Potential, which looks at the forthcoming second Cycling and Walking Investment Strategy.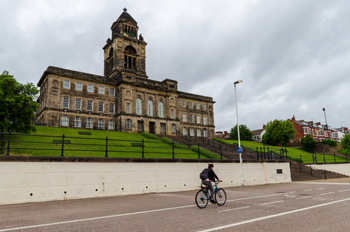 The group argues that the strategy should instead be called the Active Travel Investment Strategy to avoid suggesting that it is primarily about cycling and to reflect the existence of other modes of active travel.
The report calls for a 'significant further increase in funding for active travel', adding 'it is not possible for the Treasury to provide additional funding to meet the need, we recommend a reallocation of the Department for Transport's core budget, of which active travel receives a disproportionately small share'.
It also recommends five-year funding settlement for active travel each transport/highway authority subject to the authority passing an annual review process, supervised by Active Travel England (ATE), as well as the creation of a new Highways Act, 'whose main purpose would be to require highway authorities to develop and manage their networks in accordance with the need to achieve the goals of environmental sustainability and improved public health'.
The report adds: 'Specific to our emphasis on cycling and walking, the Act would impose on authorities a requirement to improve facilities for active travel as part of any change to the road network. We would also push for it to require highway authorities to contribute fully to the collective drive towards Net Zero in the transport sector.'
The group has also recommended giving ATE 'a broad and substantial role', a review of the subsidy arrangements relating to electric vehicles and a fair deal for disabled cyclists
The report notes that ministers have said that ATE would become a statutory consultee on new developments, adding: 'Whilst this is welcome, we want ATE to have teeth: it will not be adequate for planning inspectors simply "to take note of" a critical report from ATE in their deliberations - as argued by the Transport Planning Society, ATE would have powers to refer to the Secretary of State applications that are seen to fall short'.
The group comments: 'We do not underestimate the resource implications of this proposal but the risk of creating car-dependent developments with inadequate provision for active travel makes it essential.'
Under the heading 'Levelling up e-bikes', the report calls for a review of the subsidy arrangements relating to electric vehicles, commenting: 'We question the fairness of a system that provides a plug-in grant for all electric vehicles except e-bikes.'
In the foreword to the report, APPG co-chairs Ruth Cadbury MP and Selaine Saxby MP wrote: 'This set of recommendations is a practical and constructive response to the situation and one that we believe will help England to achieve its active travel potential.'