The Government has approved the use of gantry mounted cameras to fine drivers for ignoring red X signs on smart motorways, more than three years after Highways England said it wanted the law changed.
The Government-owned company confirmed that drivers breaking the law will face £100 fines and 3 points on their licence after legislation was passed to introduce automatic penalties for motorists when cameras detect vehicles in closed lanes..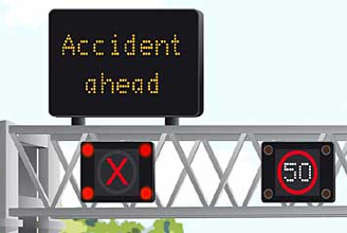 It said Red Xs are used to signify lanes that motorway lanes are closed to protect drivers in difficulty, or when road workers and emergency services need a safe space to work. However, Highways England has confirmed that they are also used to close lanes to through traffic at junctions to help vehicles join.
A statutory instrument was laid on Monday (13 May) to allow enforcement cameras to be used and will come into effect from 10 June.
The Home Office said this will enable the it to grant type approval of this new system.
Highways England said the new powers will be used in late summer after a period of testing.
Transport Network learned in March 2016 that Highways England was seeking new legislation to enforce red X's after sending thousands of warning letters to drivers ignoring them.
These letters will continue to be used until enforcement begins, Highways England said.
Mike Wilson, chief highways engineer and executive director for safety, engineering and standards, said: 'Our motorways are already among the safest in the world but this move will make them even safer.
'Red X signs over closed lanes help protect drivers from dangers ahead. Most drivers comply with lane closures, but the minority of people who don't are putting themselves and other road users at real risk. We welcome this auto-enforcement and the increase to driver safety it will bring.'
AA president Edmund King said: 'Although it has taken far too long, this is a welcome measure to improve safety on motorways.
'Our research shows that one in 20 drivers continue to drive in red X lanes even when they've seen it, and so far Highways England have written warning letters to over 180,000 drivers about their actions.
'Red X's are put up to warn of an obstruction, so drivers must get out of the lane when they see them. We have had several incidents recently where AA members' cars have been hit in a live lane on "smart" motorways.'
Highways has approached the Home Office for an explanation for the delay.