The High Court has quashed transport secretary Grant Shapps' Development Consent Order (DCO) for the Stonehenge Tunnel - handing campaigners a major victory in their bid to end the project.
The latest twist to the A303 Stonehenge plans, which have been on the books for roughly 30 years, saw the Save Stonehenge World Heritage Site (SSWHS) campaign group defeat the Government in court on 30 July.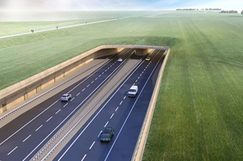 The Government's case always looked vulnerable as the Planning Inspectorate, as the examining authority, considered that the scheme would cause 'substantial harm' to the World Heritage Site and recommended that it be refused.
Despite this Mr Shapps pushed ahead with his approval arguing that less than substantial harm would result and it would be outweighed by the benefits of the scheme.
Mr Justice Holgate ruled: 'The claim for judicial review succeeds... The claimant is entitled to an order quashing the SST's [secretary of state for transport] decision to grant development consent and the DCO itself.'
The judge upheld two grounds of challenge to the DCO decision and gave permission for the claimant 'to apply for judicial review in relation to those grounds'.
These were:
Part of ground 1(iv): that the Minister did not receive a precis of, or any briefing on, heritage impacts where the Examining Authority agreed with Highways England but did not summarise in their report. He therefore could not form any conclusion upon those heritage assets, whether in agreement or disagreement;
Ground 5(iii): The Examining Authority and the Minister limited their concluded consideration of alternatives to whether an options appraisal had been carried out and whether there was information on alternatives. However, they did not go on to consider the relative merits of the scheme and alternatives, in particular extending the proposed tunnel farther westwards.
In the summary notes [quoted above] from the chambers of SSWHS barrister Victoria Hutton, it states: 'Mr Justice Holgate considered it was irrational not to have drawn conclusions in relation [to] alternatives, particularly given that third parties had raised them and the Examining Authority had addressed the information about them in its Report.
'The Judge held that the circumstances were wholly exceptional. In this case the relative merits of the alternative tunnel options compared to the western cutting and portals were an obviously material consideration which the Minister was required to assess and draw conclusions upon.'
Permission was refused in respect of all other grounds.
A DfT spokesperson said: 'We are disappointed in the judgment and are considering it carefully before deciding how to proceed.'
Highways England's A303 Stonehenge team tweeted: 'Disappointed for all our supporters at #A303Stonehenge judicial review decision - more details soon - we'll consider options with [Department for Transport].'
The plans for the £1.7bn scheme included:
A northern bypass of Winterbourne Stoke
A new grade-separated junction with twin roundabouts between the A303 and A360 to the west of, and outside, the WHS replacing the existing Longbarrow roundabout
"The western cutting" – a new dual carriageway within the WHS in a cutting 1km long connecting with the western portals of the tunnel
A tunnel 3.3 km long running past Stonehenge
A new dual carriageway from the eastern tunnel portals to join the existing A303 at a new grade-separated junction (with a flyover) between the A303 and A345 at the Countess roundabout, of which 1 km would be in cutting ("the eastern cutting")