The new Highbury Corner junction has officially opened after what Transport for London (TfL) described as a transformation 'from one of London's most intimidating roundabouts into a junction that is much safer and more welcoming for people'.
Construction work to remove the 1960s roundabout and replace it with two-way roads began in June 2018. Traffic switched to two-way operation for the first time in 60 years in April this year while work continued on the new junction.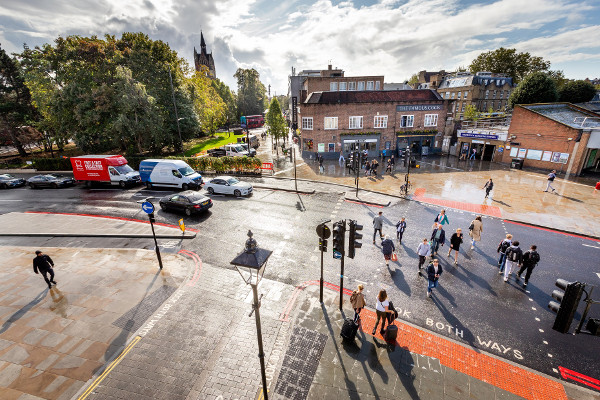 London mayor Sadiq Khan said: 'I'm delighted that our work to transform Highbury Corner is complete. It has overhauled the junction from three lanes of busy motor traffic into an area safer for walking and cycling, with a new public space for everyone to enjoy.
'Whether you're commuting into central London, or heading to the local shops, the transformation of Highbury Corner will make the area safer for everyone.'
Simon Munk, infrastructure campaigner for the London Cycling Campaign, said: 'We welcome the mayor and Islington Council taking bold action to make Highbury Corner far safer and better for walking and cycling.
'It is vital we press ahead in civilising the most dangerous junctions in London, on TfL and borough roads, to reduce road danger - the single biggest barrier to more people, and a wider range of people, cycling.'
The improvements to the junction include:
Segregated cycle lanes on all three sides of the new junction
A new green public space for everybody in the area to enjoy, including a new Highbury & Islington station forecourt
New, wider and 'straight across' pedestrian crossings, which are easier to use than the old two-stage crossings
More green space by partially opening the arboretum to public access
A new shared pedestrian/cycle toucan crossing across St Paul's Road to allow two-way cycling to and from Corsica Street
The Highbury Corner project is part of TfL's Safer Junction's programme, which is the transport authority said is reducing danger by overhauling London's most intimidating and dangerous junctions.
Work has now been completed at 31 junctions across the capital, with another 10 set to be complete by next May.