Highways England has re-opened the debate over the effectiveness of its current stopped vehicle detection (SVD) technology, claiming that it is 'effective in all levels of traffic'.
The government-owned company made the claim in a statement it issued in response to 'recent commentary about smart motorways'.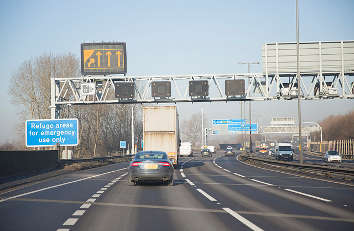 However, the statement contradicts both a recent letter to a coroner from Highways England's chief engineer and recent statements to Highways.
In December, Mike Wilson wrote to Emma Brown, area coroner for Birmingham and Solihull, following an inquest into the case of eight-year-old Dev Naran, who died when the stationary car in which he was a passenger was hit on the M6 at a time when the hard shoulder was being uses as a live lane.
Mr Wilson described Highways England's radar-based SVD system, which is in use on two sections of the M25 and being retrofitted to the M3, as 'a radar system which detects stopped vehicles in low flow conditions'.
He told Ms Brown: 'We are exploring other technologies which could reduce the risk to stopped vehicles in higher flow conditions' but warned that 'Highways England is unable at this time to set a timetable if and when this technology will be rolled out on the motorway network'.
Highways England has also acknowledged in correspondence with Highways that SVD does not work in conditions of high traffic flow.
Last week a spokesperson told Highways: 'Recognising the risk to single stopped vehicles in low flow conditions on All Lane Running, we trialled and committed to roll out a stopped vehicle detection system specifically designed to mitigate the risk.'
The spokesperson added: 'In higher flows MIDAS will take over.'
This is a reference to the Motorway Incident Detection and Automatic Signalling, which is in use across smart motorways and acts as a proxy for a system by detecting slow moving traffic. Reliance on this system has been criticised as it may only work once traffic is already effectively stationary, possibly because the stopped vehicle has already been hit.
In October, Highways England chief executive Jim O'Sullivan told the Transport Select Committee that SVD 'works', but said: 'we are rolling out stopped vehicle detection. It is challenging because radar is designed to ignore stationary things and detect things that are moving. To have a radar system that can see that something has stopped moving is a challenge.
'The MIDAS system already detects slowing traffic, so that, if you break down and traffic starts to slow behind you, there are automatic signs and signals, but we are now starting to roll out stopped vehicle detection. It is not without its challenges. Indeed, we are looking to other technologies in the future and what might be out there to help.'
Jack Cousens, head of roads policy for the AA told Highways; 'There is a clear overreliance of technology on "smart" motorways, which by Highways England's own admissions falls short of its targets.
'Stopped Vehicle Detection provides too many false positives in high traffic conditions which overwhelms the control centres, and MIDAS can't identify a stopped vehicle in low traffic. Before the rollout of these motorways a full suite of systems should have been tested and modified before being installed on every scheme.
'However, the simplest solution would be to double the number of Emergency Refuge Areas for all new and existing schemes. Giving drivers more chances to get out of a live lane would reduce the risk of stranded vehicles being struck by the following traffic.'