Costain has announced that Andrew Wyllie CBE is stepping down as CEO after 14 years.
Mr Wyllie, pictured, who has taken up the presidency of the Institution of Civil Engineers, will be replaced by Alex Vaughan, currently managing director of the group's natural resources division.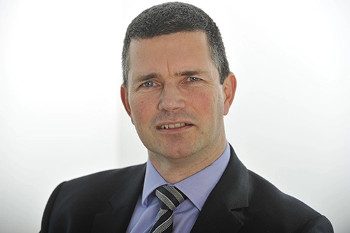 Mr Vaughan will be appointed as CEO following an AGM on 7 May 2019. He joined the company in 1992 and was appointed to the Executive Board in 2006.
Mr Vaughan has played a leading role in Costain's 'transformation into a smart infrastructure solutions business through his leadership of the development and growth of the Group's consultancy and technology services,' the company said.
Mr Wyllie CBE, commented: 'I have thoroughly enjoyed the past fourteen years and would like to thank my colleagues for their support and commitment. Costain is a great business with a great future ahead of it.'
Alex Vaughan said he looked forward to 'continuing our strategy as we enter a new era of opportunity for Costain'.
2018 results
Mr Wyllie leaves behind some mixed results from last year.
Revenue tumbled by over £200m to £1,489m from £1,728m in 2017 'reflecting a lower level of capital project activity in the year', leaving a net cash balance of £118.8m compared to £177.7m in 2017.
Profit before tax fell from £41.8m in 2017 to £40.2m however underlying operating profit was up 7% to £52.5m from £49.1m.
It also boasted a record order book 'due to differentiated strategic positioning' of £4.2 billion compared to £3.9 bn the previous year, with over 90% repeat business.