New research has revealed that English councils made £930m from parking activities last year.
The RAC foundation said the 353 local authorities in England received total income of £1.746bn from their on and off-street parking operations in 2018-19 while spending £816m on running parking.
The resulting surplus of £930m is up 7% on the equivalent figure of £867m for 2017-18 and up 41% on the £658m surplus in 2013-14.
The 2018/19 income included £454m from penalties, which was 6% higher than the £428m in the previous financial year.
RAC Foundation director Steve Gooding said: 'Penalties now seem to account for nearly half of all on-street parking income.
'What will surprise drivers is that even as parking income soars, the amount of money being spent on routine road maintenance by councils has been in reverse.'
Mr Gooding conceded that because the official numbers exclude the cost of servicing parking-related capital investment funded from borrowing, the surplus costs could be overstated for some councils.
Cllr David Renard, transport spokesman for the Local Government Association, said: 'Any income raised through on-street parking charges and fines is spent on running parking services and any surplus is only spent on essential transport projects, such as filling potholes, supporting concessionary bus fares to help reduce congestion and other local transport projects that benefit high streets and local economies.'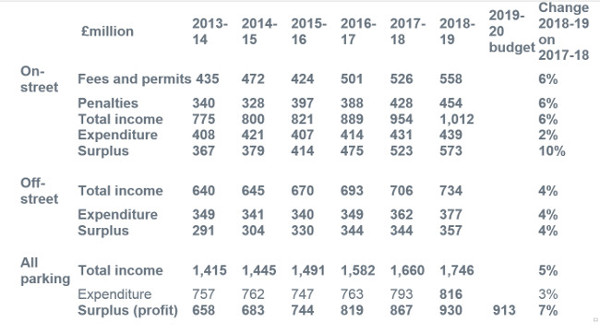 The analysis leaves out the £9.7m generated in Nottingham from the workplace parking levy and excludes the six national parks.
Of the 353 councils who returned parking figures to central government, only 41 reported a loss on their parking operations.
As in previous years, the largest profits are being made by councils in London.
English council parking surplus in 2018/19 ranked by size of surplus (top 25)
Westminster £69m
Kensington & Chelsea £37m
Wandsworth £26m
Hammersmith & Fulham £26m
Brighton & Hove £26m
Camden £26m
Islington £23m
Haringey £18m
Lambeth £16m
Hackney £15m
Newham £14m
City of London £14m
Barnet £14m
Birmingham £14m
Hounslow £13m
Ealing £13m
Merton £12m
Milton Keynes £12m
Tower Hamlets £12m
Brent £11m
Croydon £11m
Bristol £10m
Cornwall £10m
Manchester £10m
Waltham Forest £9m