Ministers have agreed to release £42m of Local Growth Fund (LGF) cash towards a longstanding road widening scheme in South Yorkshire.
The cash will widen part of the existing A630 Parkway route into Sheffield into a three lane dual carriageway, with carriageway widening and resurfacing at Junction 33 on the intersecting M1.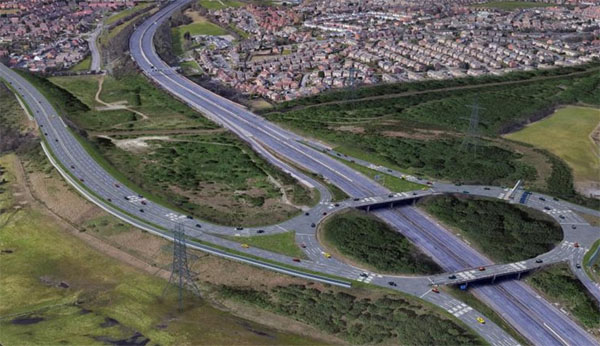 Junction 33 of the M1 with the A63 to the left leading off towards Sheffield
Although the Department for Transport (DfT) described the cash as part of attempts to to 'level up northern transport infrastructure' and linked it to the creation of the Northern Transport Acceleration Council earlier this year, funding was already agreed in principle as part LGF cash allocated to Sheffield City Region. But as a 'retained major' project, central government sign off was needed.
Roads minister Baroness Vere said: 'The funding announced today will make a real difference to thousands of commuters' journeys in the region every day, and further demonstrates our ongoing commitment to levelling up transport infrastructure in the North.
'By boosting the capacity on this vital A-road, and delivering this scheme in good time, we'll help improve connectivity, cut journey times and boost local economies in South Yorkshire.'
Peter Molyneux, major roads director at sub-national transport body Transport for the North, said: 'Confirmed funding to upgrade the A630 will be welcome news for the thousands of people and businesses who are faced with daily delays getting into and out of Sheffield and the surrounding area.'
Officials said the main works are set to start soon and the new road is scheduled to open in summer 2022, with the DfT's contribution forming the majority of the total scheme cost of £46m.