The Department for Transport (DfT) has responded to criticism from charity leaders who have accused ministers of stalling on the issue of pavement parking.
In a letter to the Times, the chief executives of charities such as Sustrans, the British Parking Association and the Royal National Institute for the Blind state: 'Cars parked on the pavements force people into the road to face oncoming traffic, which is particularly dangerous for many, including blind and partially sighted people, parents with pushchairs and young children, wheelchair users and others who use mobility aids.'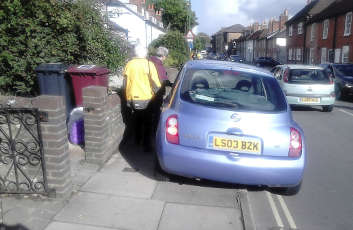 They point out that it has been 1,000 days since ministers said they would take action on the issue – a reference to a ministerial pledge that led to Simon Hoare MP withdrawing his private members' bill in December 2015.
The letter states: 'The government has been stalling on this issue, and we urge the prime minister, and the government, to take action to change the law on unsafe pavement parking.'
In England outside London, pavement parking is not banned by default but councils can make Traffic Regulation Orders (TROs) to impose local bans.
The DfT said roads minister Jesse Norman commissioned a review into pavement parking in March and it is now gathering evidence on the issue and the effectiveness of current regulations.
As part of this work, it is considering alternative methods to tackle inappropriate pavement parking. It said it expects to conclude this work later this year.
A spokesperson said: 'We recognise the importance of making sure that pavement parking doesn't put pedestrians at risk, and believe councils are best placed to make decisions about local restrictions.
'Councils already have the powers to ban drivers from parking on pavements and we are considering whether more can be done to make it easier for them to tackle problem areas. It is important to get this right for all pavement users.'
The DfT's 2017 Cycling and Walking Investment Strategy listed among 'Recent Achievements: convening a round-table meeting in March 2016 to consider the practicalities (including the financial and legal implications) of how to improve pavement parking controls'.
It added:'The Department is considering how to improve the TRO-making process with the aim to make it simpler and easier for local authorities to ban pavement parking where they consider it appropriate.'