Ultra-low emission vehicles could be fitted with green number plates under Government plans to promote their take-up.
The Department for Transport said the plates, which are already used in places such as Norway, Canada, and China, could be available on vehicles like electric and hydrogen cars.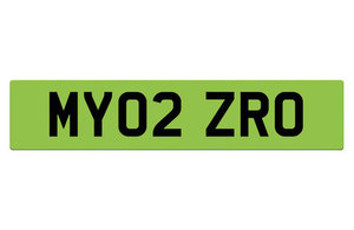 Officials said the plates could help support local incentives for electric vehicles, such as access to bus or low emission vehicle lanes, electric charging bays or ultra-low-emission-zones.
The plans are part of a forthcoming government consultation that will seek views on whether green plates could work in the UK, and if so, what they should look like. Officials said the 'eye-catching' plates could appear on UK vehicles 'in the next few years'.
Transport secretary Chris Grayling said: 'Adding a green badge of honour to these new clean vehicles is a brilliant way of helping increase awareness of their growing popularity in the UK, and might just encourage people to think about how one could fit into their own travel routine.'
Elisabeth Costa, director at social purpose company The Behavioural Insights Team, which is jointly owned by the Government, said: 'Green plates would be more noticeable to road users, and this increased attraction can help normalise the idea of clean vehicles, highlighting the changing social norms around vehicle ownership.'
AA president Edmund King said that drivers 'shouldn't be forced to display their green credentials on their number plate' however he added 'as the number of green plates increases it could help convince previously sceptical drivers that electric vehicles work'.
'It could also be an easier way to implement incentives for electric car ownership such as free or preferential parking. The plates would also need to be compatible with safety requirements and ANPR, speed camera technology.'
The announcement comes ahead of the UK hosting a Zero Emission Vehicle Summit this week, with an address from prime minister Theresa May on Tuesday (11 September).