The UK Government could still overrule the devolved administration in Wales over plans for a new route for the M4 near Newport following the rebranding of England's strategic roads operator as 'National Highways'.
While transport is a devolved matter in Wales, the Department for Transport (DfT) said that it may use the Union Connectivity Review under Sir Peter Hendy to address congestion on the motorway, which reduces to two lanes at the Brynglas tunnels.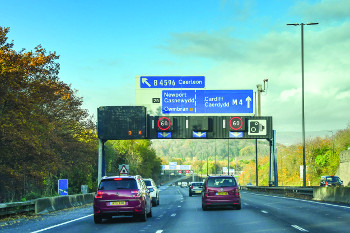 The Welsh Government previously drew up plans for a relief road for the M4, involving a new route near to Newport docks but in 2019 rejected the £1.6bn scheme and set up a commission, led by Lord Burns, which recommended better traffic management and a raft of transport improvements in South East Wales as an alternative.
Last October, when plans to rebrand what was then Highways England were reported in the media, the UK Government's Welsh secretary, Simon Hart, said it would not rule out overruling the devolved government.
Fears were raised that UK ministers could use what is now the United Kingdom Internal Market Act, described by first minster Mark Drakeford as a 'power grab', to push the scheme through.
Following this month's confirmation of the rebranding, Highways asked the DfT if it would rule out such a move.
A spokesperson said: 'While decisions about the M4 around Newport remain a devolved matter, we are keen to work closely with the Welsh Government to help ease congestion problems in areas vital for people and businesses.
'The Union Connectivity Review, led by Sir Peter Hendy CBE, will provide recommendations on how to take this work forward.'
The DfT said recommendations from the review will be published 'in the near future'.